Falklands soil and pebbles were received by the Pope from Argentine governor
Wednesday, March 2nd 2016 - 06:55 UTC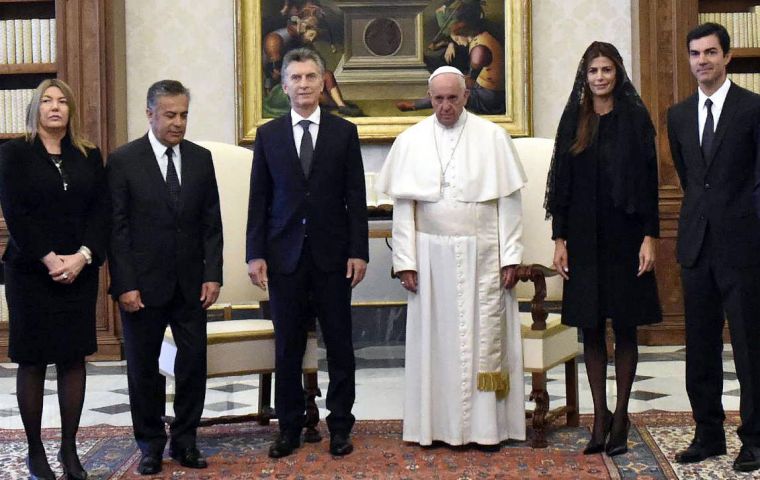 Soil and pebbles from the Falkland Islands together with letters from Tierra del Fuego residents were received by Pope Francis during the recent visit of an Argentine delegation that included president Mauricio Macri, several ministers and three governors, one of them, Ms. Rosana Bertone from the most austral of Argentine provinces.
"It was a brief but intense meeting, very positive, close and warm. Francis sent his blessings to all the people from Tierra del Fuego", said governor Rosana Bertone.
"Francis received all the letters sent from my constituency and also soil and pebbles from the Malvinas Islands, which were delivered by our marathon runner Daniela Brada. Francis was very pleased with all the letters", said Ms Bertone.
The governor said that Francis asked her to pray for him and to show all the strength necessary to face the challenges of leading a province which has so much to offer and develop.
"Some of the messages of the meeting and which I brought back to Tierra del Fuego refer to peace, because we are working very hard to find the wellbeing and peace that all the people of the province deserve", added Ms Bertone.
"The Holy Father's message was work for peace in the province, peace in the region and for this we in Tierra del Fuego and all Argentines must be more united than ever".
Bertone also underlined that the fact three governors were invited to be part of the delegation with president Macri that visited Francis, "means we're part of the national agenda; even thinking differently we can believe in the same goals. This is part of our faith, and also our conviction that we can have a country inclusive for all, fairer and more equal".
Following the meeting last Saturday, a Vatican release underlined "the good relations between the Holy See and Argentina" and detailed some of the issues addressed by Francis and President Macri among which "integral development, respect for human rights; combating poverty and drug-trafficking, justice, peace and social reconciliation".
Bertone was elected governor of Tierra del Fuego by the opposition Justicialista party, but given the financial situation of the province has adopted a constructive approach towards the administration of president Macri. She has also instructed the federal lawmakers that respond to her to adopt a similar attitude for the benefit of the province.