Macri reaffirmed Malvinas sovereignty claim, despite mature and sensible relations with all countries
Wednesday, March 2nd 2016 - 07:30 UTC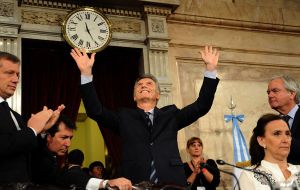 At the formal opening of the 134th congressional term on Tuesday, Argentine president Mauricio Macri said on Tuesday that his administration is building mature and sensible relations with all countries of the world, and Mercosur is a priority, but dialoguing with world leaders, including British PM David Cameron "does not mean giving up our sovereignty claim over the Malvinas Islands".
"We're building mature and sensible relations with all countries of the world, and since globalization is a fact we believe that besides the threats and challenges it implies, it also means great opportunities which we must take advantage off. Our first move was to give a strong signal to Mercosur, so important for us, and re-launching talks with Brazil, Uruguay and Paraguay", said the Argentine leader in his our long speech.
Macri said that discussions with the European Union for a wide-ranging trade negotiation are back of the table, and pending conflicts and debts with Chile, Uruguay, Paraguay and Bolivia have been overcome, "plus our total commitment to democracy and human rights in the region", which was a clear reference to Venezuela.
In the short time since taking office the Argentine president underlined he had met with the presidents of Mexico, Peru, Ecuador, Colombia (the leaders of Pacific Alliance members) for a common agenda, and reestablished relations with the United States, France, Italy, Britain, Germany and Israel "following years of conflict, differences or sometimes mere negligence".
In the case of the UK "we held discussions with Prime Minister Cameron, but dialogue does not mean dropping our legitimate claim over Malvinas Islands sovereignty. On the contrary, isolation and void rhetoric, distance any possibility of finding a solution", underlined Macri to the applause of most of Congress.
Finally in the chapter referred to foreign relations Macri said his administration had reaffirmed the strategic relation with China, dialogue with Russia, the Arab countries, opening a working relation with African nations and strengthening links with East Asia.