Trump tsunami: Republican hedge fund billionaire Paul Singer to become Rubio's finance chairman
Wednesday, March 2nd 2016 - 23:46 UTC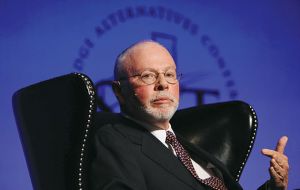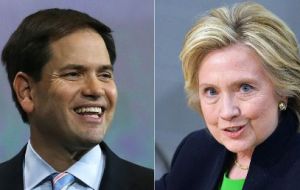 Paul Singer, the influential hedge fund billionaire from New York who endorsed Marco Rubio in October, is set to be named as his national finance chairman according to various US press reports. Singer is well known in Argentina for bringing a lawsuit against the government in the holdouts dispute.
US daily Politico reported on Tuesday that the announcement will be made at a quarterly gathering of Rubio donors in Miami on March 10. The information was provided to the political newspaper by campaign worker Mike Allen.
Político suggested that this is a clear sign that the GOP's Wall Street establishment is closing ranks around Rubio in a bid to derail Trump's march to the nomination. The newspaper's analysts however criticized the move as coming far too late.
The decision also shows just how willing Rubio is to risk voter backlash in order to continue raising money for his campaign march.
"The move is sure to spark controversy among Christian conservatives because super-PAC donor Singer is a gay-marriage advocate and a supporter of LGBT," said New York Post columnist Emily Smith.
Singer, who has a gay son, is part of a group of conservative Wall Street hedge fund managers who are vocal supporters of LGBT rights. Singer announced he was throwing his support to Rubio last October and has since emerged as one of the Florida senator's top financial backers.
The hedge fund billionaire said Rubio was the only candidate who can "navigate this complex primary process and still be in a position to defeat" Hillary Clinton.
Hedge fund Elliott Management, run by Singer, brought numerous lawsuits against Argentina over the course of the 15-year-long sovereign debt default dispute. On Monday Elliot finally accepted a new offer by the Argentine government after rejecting previous ones in 2005 and 2010.
"We are pleased to have reached an agreement with Argentina. We are hopeful that the completed negotiations, held under the aegis of Special Master Daniel Pollack, have cleared the way for other plaintiffs to reach satisfactory resolutions as well," said a spokesperson for Elliot after the deal was reached.