EU top official expected in Argentina to bolster Mercosur/EU trade negotiations
Thursday, March 3rd 2016 - 05:11 UTC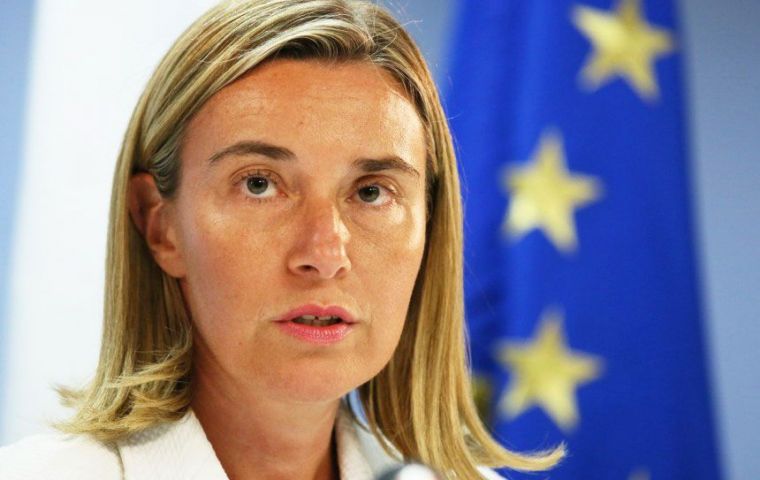 Argentine president Mauricio Macri is scheduled to receive in a week's time the European Union head of foreign affairs, Federica Mogherini who is expected to announce that all is ready to begin, next April, formal negotiations for the long-delayed trade and cooperation agreement between Mercosur and the EU.
"We are confident Ms Mogherini will bring good news referred to the exchange of proposal to begin talking about the accord, and if all advances as expected, formal dialogue should take off next April", revealed diplomatic sources in Buenos Aires.
According to the same sources, Ms Mogherini who is responsible for EU foreign affairs will arrive next Wednesday and will first meet with her peer Susana Malcorra, who organized the visit, and then will be received by president Macri at Government House (Casa Rosada). The agenda ends with a press conference at the Argentine ministry of foreign affairs.
The Macri administration is very much interested in advancing as fast as possible to reach the beginning of formal discussions with the EU, another clear signal of Argentina's new approach to foreign policy, particularly since until last December she was the most reluctant member to advance on a trade deal with the EU.
Italy, whose prime minister has met president Macri at least twice, is very much interested in advancing the EU/Mercosur negotiations, and Ms Mogherini, also happens to be an Italian national. All this despite the French stance which made clear it wants to safeguard its 'sensitive' areas, agriculture and the audiovisuals' industry.
"The EU and Argentina are determined to take advantage of current opportunities to increase significantly bilateral cooperation as well as bi-regional in forums such as Mercosur and EU/Celac", said a brief release from the EU office in Buenos Aires confirming next Wednesday's visit of Ms Mongherini.
As one of the EC vice presidents, Ms Mogherini will become the highest ranking officer from the European Union to visit Argentina in the last decade.