Republicans work out strategy to stop Trump in Ohio and Florida primaries
Thursday, March 3rd 2016 - 04:47 UTC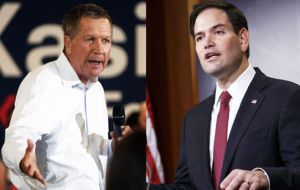 Following on Donald Trump's sweeping win on "super-Tuesday" Republican strategists are planning support for Ohio governor John Kasich so he can take his state presidential primary on 15 March and similarly with hopeful Senator Marco Rubio in his home state of Florida.
Although Republicans for the past week had pressed Kasich to withdraw from the race and give Florida Sen. Marco Rubio a chance to defeat Trump in a two-man contest, the combination of Texas Sen. Ted Cruz winning Texas and Oklahoma and Kasich's determination to compete in his home state has forced Republicans to improvise another way to prevent Trump's nomination this summer in Cleveland.
As part of this strategy, Republicans and their allies hope to unleash a TV campaign aimed at battering Trump, hoping that could help Kasich win Ohio and Rubio win his home state of Florida on March 15.
Because the winners of Ohio and Florida receive all 165 delegates in those two states, they could prevent Trump from collecting the 1,237 delegates he needs to be nominated, meaning the eventual nominee would be selected at the Republican National Convention in Cleveland.
Trump's campaign style combined with antagonism he has sparked among women, Latinos and independents have convinced Republicans he will lead the party into a catastrophic electoral defeat in November.
"Plan A was to beat Trump outright," said Kevin Madden, a senior adviser in 2012 to Republican presidential nominee Mitt Romney. "There is now a narrower path to that because of Super Tuesday."
"Plan B is denying Trump the delegates he needs to win the nomination and trying to reframe the debate from here to Cleveland as a fight for the heart and soul of the Republican Party is emerging as one of the better opportunities for the candidates still in the race."
Charlie Black, a Republican consultant in Virginia who was a key adviser to President Ronald Reagan, said, "Cruz did his part by winning Texas and Oklahoma. Rubio needs to win Florida and obviously John needs to win Ohio."
Hope Hicks, a Trump spokeswoman, called the new Republican strategy as "yet another desperate attempt by the out of touch establishment elites and dark money that control the weak politicians, to maintain control of our broken and corrupt system."
The Republican field dwindled to just four candidates Wednesday as retired neurosurgeon Dr. Ben Carson indicated he will end his campaign.
As part of the emerging strategy, Black and former House Speaker Newt Gingrich, R-Ga., said independent organizations are preparing to finance a major media blitz against Trump with Gingrich predicting it "will be very formidable. People in the establishment are just going crazy."
Black said the Club for Growth, a conservative organization in Washington, spent at $500,000 in anti-Trump commercials in Arkansas and $431,000 in Oklahoma. Cruz unexpectedly defeated Trump in Oklahoma while Trump barely defeated Cruz in Arkansas.