Algae bloom in southern Chile causing massive losses in the salmon farms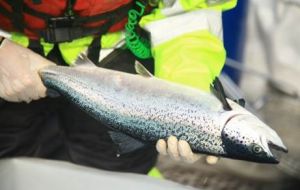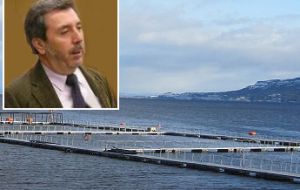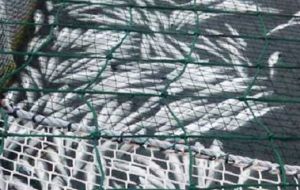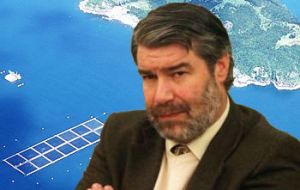 A group of salmon farms operating in the south of Chile have reported the mass death of millions of salmon. The deaths are attributed to an outbreak of harmful algae, set to generate millions in financial losses and see supermarket prices soar across Chile.
Last week the Norwegian company Marine Harvest, the largest salmon producer in the world, reported the deaths of about 1.2 million fish as a result of the algae being identified on their premises, located in the southern region of Los Lagos.
This massive presence of algae has forced the National Marine Fisheries Service to activate their emergency protocols to avoid the severity of the situation, according to the Chilean media.
"This summer's climatic conditions have led to massive algae blooms, first in the north of Aysén and Central Chiloe and now in the Puerto Montt area, causing mortality through low oxygen and damage in the (fish) gills," said the Chilean director of National Fisheries and Aquaculture, German Iglesias.
According to newspaper La Tercera, the Camanchaca company estimates its losses at around 1.5 million fish, that's around half of the firm's total three million salmon crop. Total losses are valued at around US$22.2 million.
Another firm hit was AquaChile, which reported the death of 2.3 million units of Atlantic salmon, at an estimated value of US$15 million. The company made clear that their affected product "does not have insurance against this risk."
So far, it is estimated that there are 19 salmon fisheries affected, with losses of around 12,700 tons of fish.
In 2007, Chile became the second largest producer of salmon, surpassed only by Norway. But, the appearance of the ISA virus resulted in a large amount of deaths in the fish, causing a drastic reduction in production. The ISA virus only affects Atlantic salmon, resulting in the fish suffering internal bleeding.
"This is extremely sad," said Felipe Sandoval, president of SalmonChile, adding that this is a natural phenomenon that happens every year, but sometimes can be intensified.
"We have not seen a similar situation since 2009." SalmonChile also estimate that most of the fish that were affected by this phenomenon, should be harvested "in about eight months".
Industry sources say the loss of biomass will generate an upward adjustment in salmon prices due to the lower number of units in the market.
The National Fisheries and Aquaculture (Sernapesca) reported that as the Chilean government has now activated a contingency plan to "facilitate the logistics of the farms affected by this phenomenon, specifically in relation to the transfer of the fish."
"We are having several 'algal blooms' in different sectors and we think that maybe this season they will continue to appear," said Marcela Lara, assistant director of Aquaculture.
Sandoval says that it is important to remember that "this is a natural phenomenon, it has nothing to do with the management of companies. It has to do with the weather and water conditions." (FIS)