Falklands, "an indescribable mix of emotions and experiences"
Wednesday, March 9th 2016 - 06:28 UTC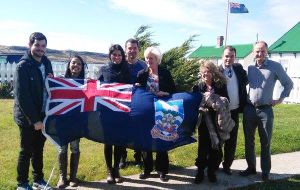 A group of Brazilian academics, students and journalists recently visited the Falkland Islands, invited by the local elected government. One of the visitors, Guilheme Lacerda wrote a small piece in the social network about what the describes as an incredible experience.
"The second and third days in the Falklands were of indescribable emotions and experiences. On Sunday we were invited to travel to Bleaker island, an island 25 minutes away from Stanley, on East Falkland the main island, where we are staying. So far so good. Little did we know that the only way to reach to Bleaker was flying on a single engine aircraft, and that in the island to visit the whole population was four people: the owners Phyl and Mike, and two farm hands.
"In the flight to the island and return, in the small plane with the pilot and four other passengers it was impossible not to remain glued to the window to try and understand the dimension of these (Falkland) Islands "lost" in the middle of the ocean.
"Bleaker island is the most surreal place that all of us on the trip have seen in the world, and even on television. It's hard to understand how a place, almost inhospitable, manages to host so many penguins, sheep, rare birds and even the most wooly and fat cows that I have ever seen, and at the same time receives tourists in such comfortable lodging (like millionaires vacation houses) in such a warm and inviting atmosphere.
"For lunch we had barbecue, that is, beef, lamb and squash, and plenty of red Chilean wine (no empty glasses allowed). The house is so warm and well heated that it's unbelievable. But reality was just behind the door, outside cold was almost absurd, six degrees and three degrees because of the wind factor. One night at Bleaker's was enough to perceive how fantastic nature is, mainly in those places where humans are rarities in the midst of hundreds of penguins.