Spain's Socialists would continue "dialogue and friendship" with Gibraltar even with Brexit
Thursday, March 10th 2016 - 03:59 UTC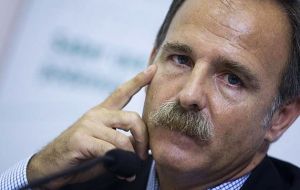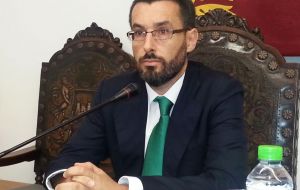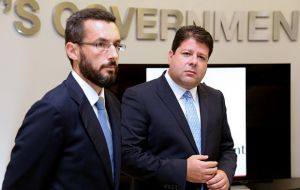 Spain's Socialist party would continue to advocate "dialogue and friendship" with Gibraltar even if the UK voted to leave the European Union, the PSOE's MP for Cádiz said during a visit to the Rock.
Salvador de la Encina was speaking just days after the caretaker Minister for Foreign Affairs, José Manuel García-Margallo, suggested the Partido Popular would seek to capitalise on a Brexit raising Gibraltar "the very next day".
De la Encina, who sits on the Foreign Affairs Commission in the Spanish parliament, declined to be drawn specifically on García-Margallo's comments. But he said the PSOE had always advocated good cross-border relations and had maintained the same position since the government of Felipe Gonzalez reopened the border in 1982.
That position would not change in the event that Britain withdrew from the EU, he said.
"My personal wish and that of the Socialist party is that the UK and Gibraltar should remain in the European Union," he told reporters. "But in a globalised world, whether the UK is in or out of the European Union, we cannot obstruct freedom of movement for people and goods."
"I cannot envisage a situation in which a Socialist government would go against criteria that it has defended in the past."
In related news the mayor of La Linea Juan Franco, said that "when Gibraltar sneezes, La Línea catches a cold", summing up the relationship between the neighboring cities.
"And if Gibraltar catches pneumonia as a result of a British exit from Europe," he added, "things for me will get rather complicated."
Franco made these comments after meeting Chief Minister Fabian Picardo at Number Six Convent Place. He also revealed that both sides hope to be able to announce initiatives to boost local co-operation and mutual confidence in three or four months' time.
When Fabian Picardo and Juan Franco first met officially last August Brexit still seemed a long way off, and did not feature in their discussions. It's a very different story today.
Referendums, both in Britain and Gibraltar, on whether the UK stays in or leaves the European Union are just three short months away. And if the prospect of an actual "Brexit" is worrying for the Rock it's no less so for our closest neighbors.
Franco claimed that the Partido Popular, with which his "La Linea Cien por Cien" group governs in coalition, is fully behind any initiatives that improve cross-border co-operation. Some of these were discussed today.