Sao Paulo prosecutors insist on an arrest warrant for ex president Lula da Silva
Friday, March 11th 2016 - 06:16 UTC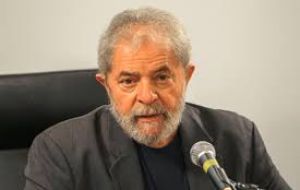 Sao Paulo state prosecutors in Brazil are seeking the arrest of former President Lula da Silva on charges of money laundering and identity fraud for concealing ownership of a beachfront apartment, his foundation said on Thursday. The effort to arrest the former president raised the stakes dramatically in the current crisis and was likely to further polarize protests on Sunday calling for the impeachment of president Dilma Rousseff.
Lula's foundation called the motion to arrest the president "more proof of the partiality" of Sao Paulo state prosecutor Cassio Conserino. The motion requires the approval of a judge, which is highly unlikely, according to a presidential aide who asked not to be named given the sensitivity of the case.
Conserino declined to comment on possible arrests in a news conference regarding the charges earlier in the day, and court officials did not comment on the news.
Newspaper O Globo quoted court documents in which prosecutors argued that Lula should be jailed preventatively because he could "summon his violent network of supporters to keep the criminal process from proceeding."
Last week federal police brought Lula in for questioning in a separate investigation, setting off isolated skirmishes in the streets between supporters and critics of the former president as the graft probe inflamed political tensions.
Earlier on Thursday, Conserino told reporters that two dozen witnesses said Lula was the owner of a luxury condo in the city of Guarujá, using their testimony as proof that he profited from real estate projects financed by a state bankers' cooperative.
Lula has disavowed ownership of the apartment and denied any wrongdoing. His attorney has asked the Supreme Court to decide if the case is under the jurisdiction of state prosecutors or the separate federal probe tackling graft at state-run oil company Petrobras.
That two-year-old federal investigation has already rocked Brazil's political and business establishment with high-profile arrests and convictions, while deepening the worst recession in decades in Latin America's biggest economy.
The investigations now threaten to tarnish the legacy of Brazil's most powerful politician, whose humble roots and anti-poverty programs made him a folk hero, by putting a spotlight on how members of his left-leaning Workers' Party consolidated wealth and power since he rose to the presidency 13 years ago.
The scandal has also hurt political support for Rousseff, who is struggling to pass fiscal reforms in Congress and fight impeachment for allegedly breaking budgetary rules.
The next setback may come on Saturday, when Rousseff's biggest ally in Congress, the fractious center-right Brazilian Democratic Movement Party, PMBD, is expected to distance itself from her increasingly unpopular government.
The head of the governing Workers' Party, Rui Falcao, told journalists in Brasilia that there were no grounds to arrest Lula and he was confident a judge would not grant a warrant.