Happy St. Patrick's Day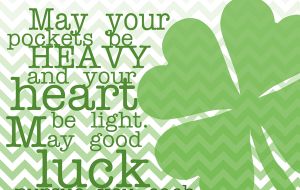 Every year on March 17, the Irish and the Irish-at-heart across the globe observe St. Patrick's Day. What began as a religious feast day for the patron saint of Ireland has become an international festival celebrating Irish culture with parades, dancing, special foods and a whole lot of green. Best wishes for a safe, happy & pleasant day of love, peace and joy.
More half a million people lined the streets of Dublin to celebrate the St Patrick's Day Festival which was themed "imagine if . . ." as a celebration of the future.
The festival was the final installment of a three-year creative thematic series celebrating the past, the present and the future. This year looked at the future of the Republic as seen through the imaginations of young people.
Close to 3,000 performers participated in the parade. Cork native and disability rights campaigner Joanne O'Riordan held the honorary position of Grand Marshal. She said afterwards it was "an absolutely amazing day" and an experience she would "never forget".
Ms O'Riordan received a standing ovation from President Michael D Higgins and his wife Sabina as she passed the grandstand near the start of the parade route at Parnell Square.
Organizers estimated that 510,000 people took to the streets to enjoy creative presentations from Irish artistic groups including Spraoi, Artastic, Inishowen Carnival Group, City Fusion, Dowtcha, Bui Bolg, DIT and Brighter Futures