Evita Peron's 1951 Cadillac official limousine to be auctioned in England
Saturday, March 19th 2016 - 05:31 UTC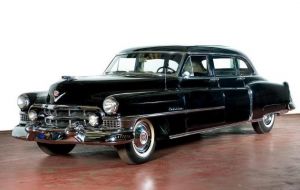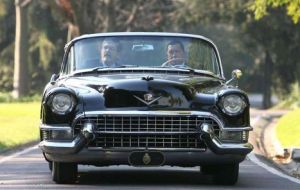 A 1951 Cadillac which was Argentina's charismatic leader Evita Peron official limousine will be auctioned on Sunday 20 March by Bonhams at Chichester, southern England. The going price for the black classic, which was also used by Evita´s husband, three times Argentine president Juan Domingo Peron, is estimated at between 120.000 and 150.000 Euros.
The special sale with 99 lots also includes a rare Mercedes-Benz 300 SL "Gullwing" Coupe, with an estimated price of over a million Euros plus a 1929 Bentley, in the range of 350.000 Euros.
Rare historic aircraft will also be auctioned: a 1959 English Electric Canberra PR9 XH134, and a Hawker Hunter T7 XL600.
In September 2014 another 1951 Cadillac limousine, also belonging to the Argentine presidency was sold in England for the equivalent of 230.000 US dollars. The sale took place at Silvestone Auctions, during a show of classic and rare vehicles. It belonged to Matin Barrone a collector from the province of Entre Rios.
In 1955, following the downfall of Peron the Cadillac was stored in a deposit and twelve years later the Entre Rios collector bought the limousine in an auction. He kept it in a garage in Gualeguaychu until 2001. The collector restored it to its original color and mechanics.
When president Mauricio Macri took office last December he wanted to cover the distance from Congress to Government House (Casa Rosada) in another of the famous Cadillac of the presidential fleet, probably the most iconic, a convertible. But unfortunately it refused to start. Thus the president had to use a white Touareg from Volkswagen.
This convertible, a 1952 Cadillac V8 OHV was a gift from General Motors taking advantage of Dwight Eisenhower's brother, Milton, visit to Argentina. Apparently this was the starting point to establishing the motor vehicle industry in Argentina.
However the convertible Cadillac did start and functioned smartly when Carlos Menem and Fernando de la Rua took office as presidents. But when the Kirchners arrived tradition was interrupted and Nestor Kirchner travelled in an Argentine manufactured Renault Laguna.
However another non Argentine president had the honor of driving the famous convertible. It was the late Hugo Chavez back in 2006, and he was accompanied by minister Julio De Vido as copilot.
"She's in perfect conditions. She started right away and we had a small tour", said Chavez at the time.