Doing business between Uruguay and United Kingdom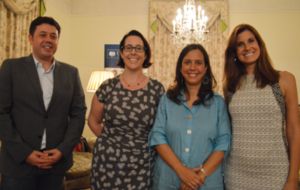 The Association of Graduates of British Universities (GBUA) together with the Association of Young Entrepreneurs (AJE Uruguay), organized a panel in which young Uruguayan entrepreneurs spoke about their experiences of doing business with the UK.
Panel members Ignacio de Paula of start-up Ebizmart, Katharine Felton, British Consul and Gabriela Castro-Fontoura, Director of Sunny Sky Solutions were moderated by GBUA member, Florencia Malo at the presentation which was held in the British Residence as part of series of events supported by the FCO that aim to strengthen the GBUA alumni network.
De Paula, whose start up provides solutions for ecommerce, explained how he and his partner managed to take their business to the British market. Gabriela Castro-Fontoura spoke about how, through Sunny Sky Solutions, she advises British companies looking for business opportunities in Uruguay and Latin America. Katharine Felton highlighted the support services the British Government provides to facilitate commercial transactions, such as UK Trade and Investment (UKTI), and the Exporting is GREAT campaign.
Some of the key points highlighted to aid business included cultivating a network of contacts, visiting fairs and events, being organized and doing research.