Obama tells the world of US support for Macri and his swift pace of economic reforms
Wednesday, March 23rd 2016 - 20:29 UTC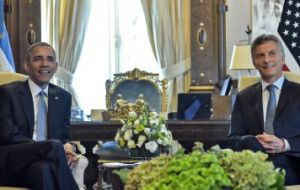 In his first press conference in Buenos Aires, United States president Barack Obama sent a strong message of support to his peer Mauricio Macri and his policies, praising him for the swift pace of reforms to create a stronger economy and said Washington was ready to work more closely with Argentina after years of tension.
"I'm impressed because he has moved rapidly on so many of the reforms that he promised, to create more sustainable and inclusive economic growth, to reconnect Argentina with the global economy and the world community," Obama said at Government House (Casa Rosada) in Buenos Aires on Wednesday midday.
Describing Argentina as one of the most powerful countries in the Western hemisphere, Obama said it was a critical partner as the United States seeks to "promote prosperity and peace and opportunity in the region as a whole."
Previous to the press conference Obama and Macri held a private meeting where both leaders, according to reliable sources, talked as if they had been life-long friends.
Earlier thousands of people cheered Obama's motorcade as it made its way along Buenos Aires' tree-lined boulevards, handing the US leader a friendlier reception than his predecessor George W. Bush, whose presence at a Summit of the Americas in 2005 was met with protests and snubbed by then President Nestor Kirchner.
Obama arrived late last night in Buenos Aires from his historic visit to Cuba, kicking off a two-day visit to Argentina that includes bilateral meetings with President Macri, civil society, business leaders and young entrepreneurs and a tribute to the victims of the last military dictatorship at the Memorial Park in Buenos Aires.
The last US president to travel to Argentina was former president George Bush for the 2005 Summit of the Americas that failed to approve the highly-contested Free Trade Area of the Americas (FTAA). Former president Néstor Kirchner, host of the summit, together with Venezuela's Hugo Chavez, was involved in the protests against the FTAA — tarnishing the relationship between Buenos Aires and Washington.
Following the press conference Obama walked across Plaza de Mayo to the Buenos Aires Cathedral and laid a wreath in tribute to General José de San Martín, Argentina's hero.