One of the greatest football players of all time is dead at the age of 68
Friday, March 25th 2016 - 05:30 UTC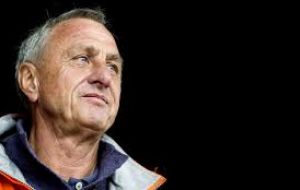 Johan Cruyff was voted world player of the year three times in four years in the early 1970's and led the Netherlands to the World Cup final in 1974. He later managed Barcelona for eight years, with the club winning 11 trophies, including its first European Cup title.
The World of Johan Cruyff website released a short statement which said "On March 24 2016 Johan Cruyff (68) died peacefully in Barcelona, surrounded by his family after a hard fought battle with cancer. It's with great sadness that we ask you to respect the family's privacy during their time of grief."
Cruyff had revealed in October 2015 that he had lung cancer. He was a heavy smoker until undergoing heart surgery in 1991.
As a player, the Dutchman led Ajax to three straight European Cups from 1971 to 1973 before leaving for Barcelona in a then world record transfer fee.
He scored 33 goals in only 48 career games for Holland as they reached the 1974 World Cup final before losing 2-1 to West Germany. He helped the Dutch qualify for the 1978 World Cup before retiring from the international game in 1977.
The Cruyff Turn, a dribbling trick that was seen for the first time in Holland's 1974 World Cup game against Sweden, has become a staple move for footballers the world over.
As a manager, he led Barcelona to four straight La Liga titles as well as bringing the European Cup to the Camp Nou for the first time in club history in 1992.
More than anything, though, Cruyff may be remembered for his influence on the modern game of football. The Dutch introduced the world to Total Football in the 1970's and Cruyff, along with Rinus Michels, preached that style of play, which called for players interchanging positions throughout the match.
Tributes to Cruyff are flooding social media.
Lionel Messi, who has won world player of the year five times, wrote on his Twitter account: "RIP Johan Cruyff. Your legacy will live on forever."
Uruguay's scorer Luis Suarez who is also a considered a star for Ajax and Barcelona, twitted: "Thank you for all you gave to football, Ajax and Barca; RIP Johan"
The Dutch football federation tweeted "It is with great sadness that we've learnt of the death of Johan #Cruyff. Words cannot express the loss we feel. #14".
Ajax said "Johan #Cruijff has passed away today at age 68. Our deepest sympathies go out to his family and loved ones" while Barcelona tweeted out "We'll always love you, Johan. Rest in peace".
FIFA president Gianni Infantino released a statement on Cruyff's passing, saying "Johan Cruyff was a magnificent player, one of the greatest players the world has ever known. A symbol of elegant play. An inspiration. A source of admiration for fans. He has marked football history for ever. I'm very saddened by his death. He will be terribly missed. Both personally and on behalf of FIFA and the world football community, I would like to extend my sincerest condolences to his family and friends."
Franz Beckenbauer, whose West German team beat Cruyff's Dutch side in the 1974 World Cup final, tweeted "I am shocked. Johan #Cruyff is dead. He was not only a very good friend but also a brother to me."
Clubs throughout Europe and beyond also sent out tributes. Inter Milan's English Twitter account saying "Whatever your footballing allegiance, #Cruyff was one of the greatest success stories the game has ever seen #Legend".