Argentine Catholic Church slams poverty and supports Obama's visit, "we must reconcile with the world"
Monday, March 28th 2016 - 05:36 UTC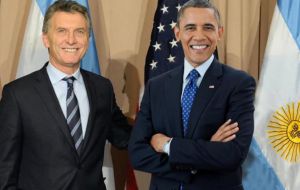 The Argentine Catholic Church again exposed poverty asking that those who have should not to be overcome by greed and called for "a new and different Argentina". There are "too many people" in Argentina living in poverty, Salta's archbishop and second vice-president of the Argentine Synod Mario Cargnello said on Holy Friday, asking people "not to be overcome by greed."
"It's highly important for those who have more and are doing better not to think just about themselves. They have to help those who are doing worst. We can't let ourselves be overcome by greed, as greed excludes," he said, in an interview with El Tribuno daily from the northern province of Salta .
"The request is to those who have more, as there are too many people living in poverty."
Speaking about inflation, Cargnello asked "those who set prices" not to put earning money as their only objective, claiming that they are doing better than other sectors and should earn less money to help others. At the same time, he called for a "new and different" Argentina"
Salta's archbishop was also asked about the visit by United States President Barack Obama to Argentina and said the country should "try to reconcile with the world" and have a "mature" relationship with other countries. Based on Obama's agenda in Argentina, he said he saw "a good attitude" from the US leader.
Cargnello's statements come two weeks after the Synod published its last document, asking for an improvement on the country's prisons — many of them subject to overpopulation and with a lack of resources.
Instead of thinking of stiffer sentences, inclusive policies should be deepened, they argued, adding that there are many people who are currently imprisoned without a conviction.