Macri praises the 'State policy' and all those who contributed to design "the new map of Argentina"
Tuesday, March 29th 2016 - 02:45 UTC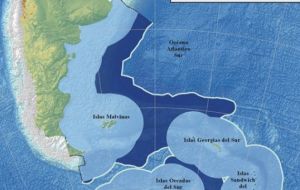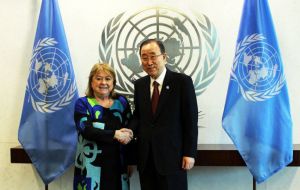 The new map of Argentina, implemented by the UN resolution that extends the country's continental shelf is an example of "State policy", since it's a claim that has been elaborated in international forums for over twenty years under different governments, underlined president Mauricio Macri, following the official announcement on Tuesday.
"A few weeks ago a UN convention which addresses countries' sea rights and limits approved unanimously the request from Argentina to extend the outer limit of our continental shelf" the Argentine leader pointed out in his Facebook.
"It's a project with two decades of studies and preparation, the effort of experts working in different fields and under different governments that continued uninterruptedly advancing the claim all along these years, a true example of a 'State policy'".
Macri mentioned the benefits of such a joint achievement tasked for over two decades. "Working on this decision the country is winning 1.7m sq km, depth meters and the UN acknowledgement of the existence of a dispute regarding Malvinas Islands sovereignty".
"We are very satisfied and pleased with this favorable reply from the United Nations and most grateful to all those Argentines who worked to achieve it. This extension of the limits of our continental shelf will enable us to defend the resources of our sea, which belongs to all of us and to each Argentine", concluded Macri.
The Argentine president with insufficient members in Congress is forced to forge standing and occasional alliances to have legislation approved, so it should not come as a surprise his insistence on 'State policy' and the standing effort over twenty years under different governments, to achieve the extension of the outer limit of the country's continental shelf.
Macri most probably would like to see some members of the Kirchner governments, maybe even Cristina Fernandez, face charges in court, but he needs to appeal, and reward, dissidents so he can manage the necessary majorities to have legislation passed as is the case with efforts to end the litigation with holdout funds.