Three mega-cruise vessels with 14.000 passengers coincide at St. Kitts and Nevis
Thursday, March 31st 2016 - 06:37 UTC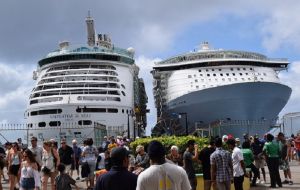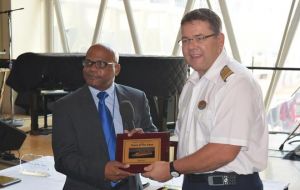 Three mega luxury cruise liners – Oasis of the Seas, Navigator of the Seas, and Costa Favalosa coincides this week with close to 14,000 passengers at the Caribbean islands of St. Kitts and Nevis and, along with them, hopes of increased business for locals. The capital Basseterre and its environs were bustling with string-band musicians, taxi-drivers competing for tours, tourists soaking up the sun, restaurants and stores full of visitors, and vendors busily plying their trade.
Oasis of the Seas, the world's second largest cruise ship, set sail from Fort Lauderdale in Florida, carrying 6,400 passengers on a nine-night Caribbean cruise. It was its inaugural visit to the twin-island federation.
Navigator of the Seas sailed from Fort, Lauderdale into Port Zante with 3,807 visitors on an eight-night Caribbean cruise; while Costa Favalosa, which docked at the Basseterre Deep Water Harbor, transported 3,780 passengers from Guadeloupe who are on an eight-day Caribbean cruise.
In welcoming the inaugural visit of Oasis of the Seas at an onboard plaque exchange ceremony, Minister of Tourism Lindsay Grant said the ship's arrival was significant.
"We are delighted. We are exhilarated for your presence here this morning. You may not know what this means to us, but it is very important that you find St. Kitts as your berth of call. Of course you know this is one of the great ships of the world and so when you are in port, we are happy to have you," he said.
Noting that Oasis of the Seas will call on St. Kitts five times for the 2016 season, the minister added: "We anticipate and expect the following season you will double that."
Captain Per Kristoffersen responded: "We are looking forward to coming here more often with our guests going forward."
Minister Grant said 17 ships have made inaugural visits to St. Kitts and Nevis for the 2016 season and disclosed that one million visitors are expected this season.
"That shows that St. Kitts is really heading to be a marquee destination," he said.
Chief executive officer of the St. Christopher Air and Sea Port Authority, Denzil James, said a committed team is in place to ensure that pier facilities are maintained and in the best shape to accommodate ships like the Oasis of the Seas, which has a passenger capacity of 5,488 (double occupancy) and 6,680 (full occupancy).