Genscher, an architect of reunification and modern Germany dies in Bonn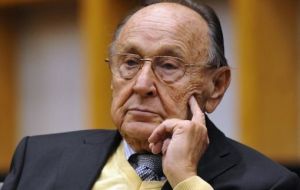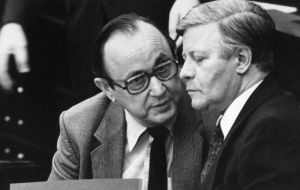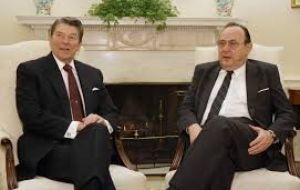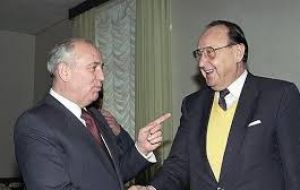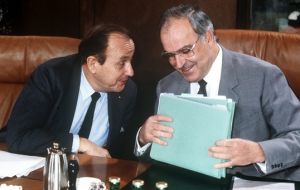 Hans-Dietrich Genscher, a widely respected German elder statesman who helped break down international resistance to the 1990 reunification of East and West Germany, died on Thursday at his home near Bonn. He was 89. His office confirmed the death, saying he had been stricken by heart failure. Bonn was West Germany's capital during the Cold War.
Mr. Genscher was a pivotal political leader in the Federal Republic of Germany. He served as its foreign minister for 18 years as he helped negotiate its absorption of East Germany.
With Chancellor Helmut Kohl, he laid the foundation for the modern German nation, becoming one of the most influential voices in postwar Germany and winning esteem for his work toward a united Europe.
In Germany he came to be regarded as a living political legend, and his death elicited an outpouring of tributes from around the world.
"Germany has lost an internationally respected statesman, and I, personally, a highly valued adviser," Chancellor Angela Merkel said.
Former Secretary of State James A. Baker III, who worked closely with Mr. Genscher, said "the United States never had any better friend nor a more important partner in managing the peaceful end to the Cold War." And former Secretary of State Henry A. Kissinger hailed him as an "intelligent, wise and humane" architect "of a peaceful international order."
Others recalled Mr. Genscher's historic speech in 1989 to thousands of East Germans who had fled to Prague that they were being granted free passage to the West. Mr. Genscher announced the news from the balcony of the German embassy in that city on the night of Sept. 30, words that were greeted with an eruption of cheers.
Mr. Genscher was born on March 21, 1927, in Reideburg, near Halle, in what he called "the other part of our Fatherland": the sector that was occupied by Soviet troops after World War II and that became Communist East Germany in 1949.
He left Halle in 1952, as a young lawyer, to pursue a career in the West. He returned for visits in the early 1970s once that became possible for West Germans under retirement age.
He never lost hope, he said, that the East-West division would be overcome, and he said that he envisioned it coming after the reform-minded Soviet leader Mikhail S. Gorbachev came to power in Moscow in 1985.
Mr. Genscher traveled extensively over the next few years to persuade allies and antagonists alike to take Mr. Gorbachev at his word about Soviet economic change, diplomacy and arms control. Later, as communism began to collapse across Eastern Europe in 1989, he offered assurances that German reunification would not pose a threat.
Mr. Genscher was an opportunist by nature, a trait that was useful in his leading a small pro-business, libertarian West German political party, the Free Democrats. In his day, the party's support determined whether Social Democrats or Christian Democrats could form a majority government in Parliament.
Chancellors of both those parties made him vice chancellor, and he served as foreign minister for an 18-year stretch that began in 1974, the longest term anyone has served in that office. That period included reunification, which was presided over by Mr. Kohl, a Christian Democrat, in 1990.
"It is not very often given to a politician to turn out to be right," Mr. Genscher said then. "Even less often, it happens while he's still alive, and yet more rarely while he's still in office. I have the advantage of all three together."
Mr. Genscher was a doughy, easily lampooned figure from Saxony with a distinctly East German accent that sounded funny to many in the western part of Germany. He also had a deadpan sense of humor. He said in 1987 that, under oath, he had been obliged to describe himself as "the greatest foreign minister of all time."
His admirers called him "Genschman," after Superman, though he had struggled with tuberculosis as a young man and in 1989 had a mild heart attack, which slowed him down, if only briefly.
Not everyone was an admirer. Skeptics in London during the government of Margaret Thatcher and in Washington under Ronald Reagan were said to have distrusted "Genscherism" as "slippery." (One exception was George P. Shultz, the secretary of state for much of the Reagan years, who wrote that Mr. Genscher had been remarkably dependable.)
Later, Mr. Genscher's critics said his eager recognition of independence for Croatia and Slovenia as Yugoslavia began to break up in 1991, and his pressure on European allies to do the same, had done nothing to deter the Balkan wars that left hundreds of thousands dead.
Mr. Genscher grew up under the Nazi dictatorship. Drafted into the Army in 1945, he was held as a prisoner of war by American and later British forces. He returned to Halle for his high school diploma and law studies, which he completed in Leipzig.
In 1952, he left East Germany for Bremen in the West, where he joined the Free Democrats. He soon moved to Bonn to work in the party leadership and married Luise Schweizer in 1958.
They divorced in 1966, a year after he won a seat in the Bundestag for the first time. In 1969, he married Barbara Schmidt, his parliamentary office secretary, who survives him, as does his daughter, Martina, from his first marriage.
The Free Democrats gave their support in Parliament to the Social Democrats of Willy Brandt in 1969, and Mr. Genscher became interior minister in a coalition that started a long process seeking to balance détente with Moscow without weakening West German commitment to the NATO alliance.
That laid the groundwork for treaties to open relations with East Germany and other East European countries and normalized the status of divided Berlin, until then a focal point for Cold War tensions.
The security services under Mr. Genscher were blamed for letting an East German spy serve as a close personal aide to Mr. Brandt for so long that the spy's unmasking, in the spring of 1974, caused the chancellor's downfall. Still, Mr. Brandt's successor, Helmut Schmidt, made Mr. Genscher foreign minister and vice chancellor.
Their collaboration continued until 1982, when Mr. Genscher, then his party's national leader, threw his support to Mr. Kohl's Christian Democrats. The decision came after Mr. Schmidt was unable to persuade his party, the Social Democrats, to support an American-led plan to install medium-range missiles in West Germany to counter a new threat from Soviet SS-20 rockets.
Mr. Schmidt thought the political move "two-faced," but Mr. Genscher kept both of his crucial government positions under Mr. Kohl.
The Atlantic alliance weathered the storm, and Mr. Gorbachev swept away the Soviet old guard before East Germany and the Soviet Union finally crumbled.
Mr. Genscher resigned from the German government in 1992, soon after his 65th birthday. Six years later, he decided to leave Parliament and returned to private legal practice and consulting, writing many commentaries on public affairs in European newspapers.