Brazil's Lower House votes on Rousseff's impeachment next Sunday
Tuesday, April 12th 2016 - 07:15 UTC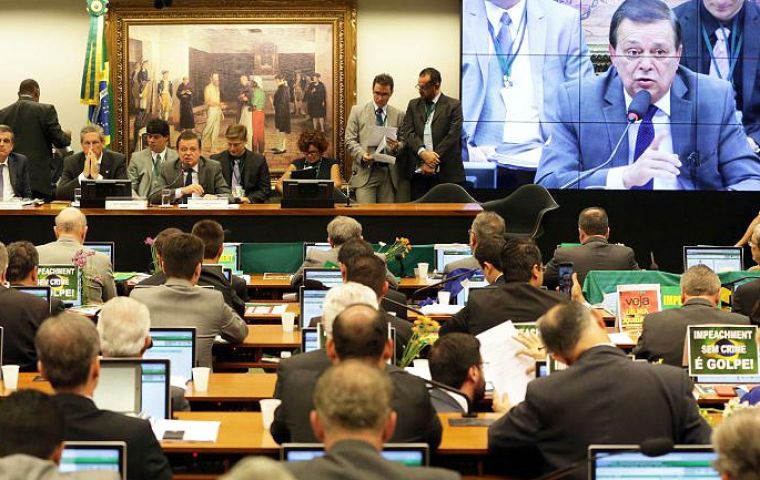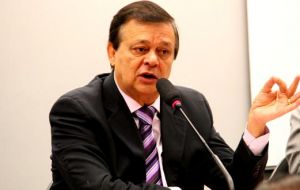 A commission considering impeachment charges against Brazilian President Dilma Rousseff voted on Monday 38 to 27 in favour of accepting them, which sends the question to the full lower house of Congress for a vote most probably next Sunday. The decision deals a blow to the beleaguered Brazilian president and complicates the country's political situation.
But it wasn't as dire an outcome for Rousseff and her Workers' Party as some had predicted, and if the full vote follows roughly the same lines, the pro-impeachment forces might not have the two-thirds support (342) they need to force her from the job.
"The game is still being played," said Fernando Limongi, a professor of political science at the State University of Sao Paulo. "It will be decided by little things – in the last moments."
The full vote is expected to be held on April 17. The government will frantically try to win over the pool of about 35 undecided Congress members in the interim. Six days, in present day Brazil, is a very long time – but, Prof. Limongi said, all things considered, Rousseff's survival "doesn't look good."
As voting began on Monday night, Congress members on both sides jeered and booed. "There is no political support base, there is no credibility, no one believes in this government anymore," Jovair Arantes, rapporteur of the impeachment commission, said, insisting the president must go.
"This government doesn't know how to dialogue; it's an arrogant and authoritarian government that doesn't accept divergent opinions."
Opponents of the impeachment chanted, "Impeachment without a crime is a coup!"
The real soared to its highest value to the U.S. dollar in eight months as Congress members acrimoniously debated the charges throughout the day before the vote.
If the Chamber of Deputies, passes the impeachment motion, Rousseff could appeal to the Supreme Court. If she does not, the Senate must vote by simple majority to accept the case – which it almost certainly will, in a matter of days – at which point Rousseff must step aside for 180 days while the issue is "tried" by the Senate. The impeachment must pass there as well, by a two-thirds majority.
During the 180 days, Dilma Rousseff would, in theory, be succeeded by her Vice-President, Michel Temer, who is from the Brazilian Democratic Movement Party, which was her ally until two weeks ago.
Temer added to the drama in Brasilia on Monday, when he "accidentally" leaked an audio recording of a speech he apparently intends to give upon assuming office. He said it was an error, that he was merely practising in case, but the leak was seen as a possibly deliberate move.
But Temer is himself facing impeachment, on the grounds that as Vice-President he was party to Rousseff's allegedly improper decisions. He has also been named by informers in the giant Petrobras corruption scandal known as Lava Jato. And he is the subject of a case in the electoral court that alleges that he and Rousseff funded their campaign with illicit donations. Some 58% of Brazilians say they think he should be impeached.
A clear majority of Brazilians want her out of office due to their disgust with the kickbacks-for-contracts scheme that the Lava Jato prosecutors allege was worth at least US$3 billion and in which a great many senior members of her party are implicated.
If both are impeached and thrown out of office, Rousseff and Temer, 79% of Brazilians favor early elections.
Yet, one of the more remarkable aspects of the process that played out in Congress on Monday is that Ms. Rousseff faces no such charges personally. However 37 of the 65 members on the impeachment commission (including almost everyone who voted in favor of impeachment) face charges of corruption or other serious crimes. Some 303 members of the lower house have been charged or are being investigated for serious crimes. And in the Senate, it's 49 of 81 members.
Former Brazilian president Lula da Silva addressed a rally of about 30,000 people in Rio in the moments after the Congress vote. "I never imagined that when I was 70 years of age we would see coup supporters try to oust a president who was elected by popular vote," he said.