Punta Arenas cruise season: 29% increase in the number of visitors landings
Tuesday, April 12th 2016 - 22:18 UTC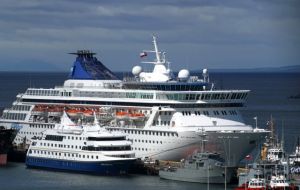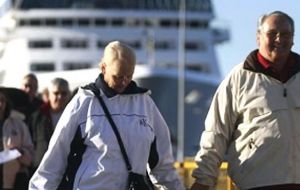 Almost 30% more cruise visitors landed in Punta Arenas, extreme south of Chile, during the current 2015/16 season which is coming to an end. According to Chile's maritime migration officers, 109.746 cruise passengers and crew members were recorded, which represents a 29% compared to the previous season. The primary report was released by La Prensa Austral.
"The numbers refer to landings from cruise vessels which called in Punta Arenas between 31 October and 3 April" said Inspector Jose Rojas from the Magallanes region Migration Department.

Last season, 2014/15 the number of cruise visitors landed was 78.908, while the number of cruise vessel calls which visited mostly Punta Arenas increased from 48 to 54.
The stats also show that during the same period (October-April) the number of people who arrived to Magallanes Region by the Monte Aymond and San Sebastián border crossings reached 773.995 of which 490.000 to the continent and 283.000 to Chilean Tierra del Fuego. These numbers represent a 3% drop compared to the same period twelve months before.