IMF and World Bank target Brexit: 'the most serious downside risk' for the global economy
Friday, April 15th 2016 - 05:22 UTC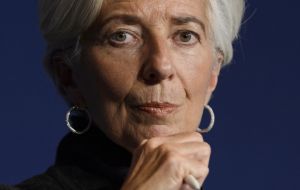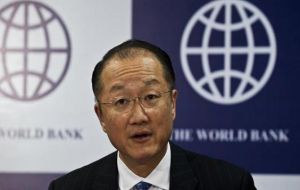 A British exit from the European Union would pose "serious downside risks" to an already slowing global economy, the head of the International Monetary Fund said on Thursday.
"We have clearly elevated (so-called) Brexit as more of a serious downside risk to our forecast for global growth," IMF Managing Director Christine Lagarde told reporters at the outset of the IMF and World Bank spring meetings attended by central bankers and finance ministers from 189 countries.
The United Kingdom has scheduled a referendum for June 23 to determine whether it should leave the 28-nation bloc, a proposal fueled at least in part by the massive flow of refugees from Syria into Europe and terrorist attacks in Paris and Brussels.
Besides curtailing trade between the U.K. and the rest of Europe, commerce among other countries is also at risk, she said.
The British initiative is part of the meeting's broader backdrop of an inclination by many nations away from trade and toward isolationism. IMF and World Bank officials said such a development would curtail global growth and particularly hobble developing countries that rely on trade to rise from poverty.
"We at the IMF believe trade has played an essential role," Lagarde said.
At a news conference earlier, World Bank chief James Yong Kim said, "The move toward isolationism and the move away from trade is very bad for poor people."
More broadly, Lagarde voiced concerns over the limping global economy. "There is plenty to worry about," she said. "But we are on alert, not alarm."
Earlier this week, the fund said it expects the global economy to expand by 3.2% this year, below its 3.4% estimate in January. It traced the weaker outlook to China's slowdown, the effect of falling oil and other commodity prices on emerging markets, and weak productivity growth and aging labor forces in advanced economies such as the U.S.
Lagarde endorsed the negative interest rates recently imposed by the European Central Bank and another Euro zone countries as a strategy to jolt the region's sluggish economy. Some analysts say pushing the rates that banks pay to park their money at central banks below zero is counterproductive because it narrows banks' net interest margins and hurts seniors who depend on savings accounts for income.
Negative rates are intended to spur banks to lend more, push down a nation's currency to bolster exports, and prod investors to move cash to higher-yielding assets such as stocks, lifting wealth and consumption.
"People are not just savers — they're savers, they're consumers, they're employers," Lagarde said. "Our conclusion is that clearly, balance, it is a net positive."
Yet she said lowering rates by itself can't resuscitate growth. "Monetary policy can no longer do the heavy lifting alone," she said.
Lagarde called for "bigger, broader and bolder" action. Advanced economies such as the U.S. and Euro zone should boost government spending on infrastructure upgrades. And Euro zone countries and emerging markets should hasten reforms of labor and product markets to boost competition and make it easier to start up businesses.
Both Lagarde and Kim addressed the recent Panama Papers scandal that revealed wealthy individuals, including public officials, who allegedly evaded taxes in offshore havens, and set up shell companies.
"When taxes are evaded, when state assets are (misappropriated), all of those can have a negative effect on our mission to end poverty," Kim said. Added Lagarde, "It's obviously a risk when the rules appear skewed and don't apply to all."