US regulators reject "too big to fall" banks proposals in case of another major 'blackout'
Friday, April 15th 2016 - 09:04 UTC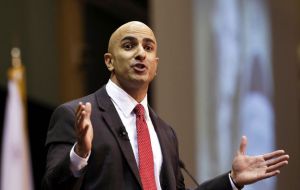 US regulators have rejected the plans of five big US banks for closing their operations in the event of a crisis. Banks labeled "too big to fail" must have a so called "living will" that would allow them to close down without the help of public money. Bank of America, Bank of New York Mellon, JPMorgan Chase, State Street and Wells Fargo have until 1 October to submit improved plans.
JP Morgan said it was "disappointed with the conclusion". "The most important thing is that we work with our regulators to understand their feedback in more detail. And we are fully committed to meeting their expectations," said JP Morgan's chief financial officer Marianne Lake.
The Federal Deposit Insurance Corporation (FDIC) and the Federal Reserve board jointly rejected the banks' plans. If they fail to come up with improved plans they could face "more stringent" requirements.
The FDIC said that Goldman Sachs' plan "was not credible", while the Federal Reserve came to the same conclusion about Morgan Stanley's plans.
Regulators have been criticized for not providing enough information on how the plans have been judged. This week the US government Oversight Committee (GAO), a bi-partisan group, said financial regulators were not providing banks with enough information about how the plans were reviewed.
"Without greater disclosure, companies lack information they could use to assess and enhance their plans," the GAO report said. The GAO recommended that "the FDIC and the Federal Reserve publicly disclose information about their assessment frameworks".
In related news the latest US Federal Reserve member has called for banks to be broken up, and says post-financial crisis safety measures do not go far enough. Neel Kashkari, president of the Minneapolis Fed, said banks should be separated into "smaller, less connected, less important entities".
The former Goldman Sachs executive urged Congress to go further than the Dodd-Frank Act of 2010. Kashkari also questioned the tools for winding down troubled banks.
He said in a speech: "I am far more skeptical that these tools will be useful," and cautioned that "we won't see the next crisis coming".
Kashkari, who was a key figure at the US Treasury under Secretary Henry Paulson during the financial crisis, said: "Now is the right time for Congress to consider going further than Dodd-Frank with bold, transformational solutions to solve this problem once and for all."
In his first speech as president of the Minneapolis Fed, since being appointed in January, Kashkari, said: "The financial sector has lobbied hard to preserve its current structure and thrown up endless objections to fundamental change.
"And in the immediate aftermath of the crisis, when the Dodd-Frank Act was passed, the economic outlook was perhaps too uncertain to take truly bold action. But the economy is stronger now, and the time has come to move past parochial interests and solve this problem. The risks of not doing so are just too great" he emphasized.