Falklands reports poor catches of squid; reimbursement of licenses to be considered in June
Tuesday, April 19th 2016 - 00:31 UTC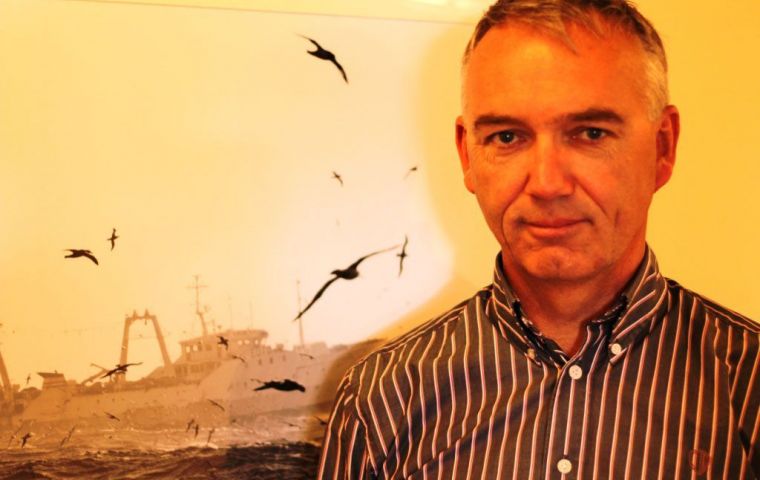 Falkland Islands authorities have confirmed that Illex squid capture has been particularly low this fishing season, a situation that could lead the Islands government to reimburse part of the license fees paid to catch cephalopods.
According to Director of Natural Resources John Barton, catches in Falklands' EEZ have just crawled over the 2,000 tons total catch mark compared to 170,000 tons at this time last year, Penguin News reported.
Barton added that some jiggers are reporting no catches and other vessels are leaving the Southwest Atlantic.
Meanwhile, reports indicate the squid fishery in Argentina has been better with total catches over 20,000 tons, which is lower than previous seasons, but still encouraging.
As to the refunds, Barton explained they will be looked at in June when the season ends.
"As we know the Illex squid population is volatile and we have seen poor years previously. It looks as if Illex are not particularly abundant this year," the Director pointed out.
Barton explained that the oceanographic and environmental conditions have been such this season that squid has not come this far south in any abundance.
On the other hand, Barton stressed that the Falkland Loligo fishery, which has also caused concern, has shown some improvement.
Last year, the 2015 squid catch season was a record year for the Falklands having totaled 358.000 tons with some jiggers reporting daily 40 to 70 tons catches. Likewise in 2014 the total was 306.000 tons.
Last February Falklands' government Senior Fisheries Scientist Sasha Arkhipkin had anticipated based on scientific surveys, "no big concentrations of Illex" were discovered in the Islands' waters or on the high seas, "which is worrying".
Arkhipkin also explained that according to the surveys, the maturation of squid had been delayed, so in turn spawning times would be later and squid would be smaller, however the amount of squid had been large, "so it shouldn't just disappear."