Uruguay's ruling coalition backs Rousseff and condemns the 'new kind of coups' in the continent
Tuesday, April 19th 2016 - 08:39 UTC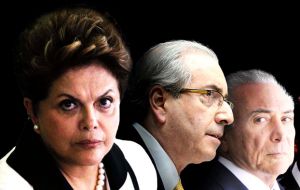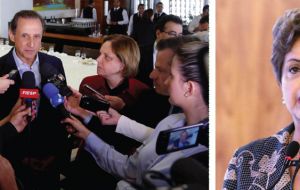 Uruguay's ruling coalition, Broad Front, came out strongly in support of Brazilian president Dilma Rousseff and condemned the "coup which is being instrumented against the head of state who was supported by 54 million votes in free, open democratic elections".
"The impeachment process with no juridical foundations is in fact a parliamentary coup" said the Broad Front release late Monday.
"There is no act of corruption, or crime involving president Rousseff while there are concrete criminal investigations against 50% of those who voted for impeachment. Particularly regarding the speaker of the Lower House, Eduardo Cunha, who is accused of having illegal bank accounts in Switzerland linked to corruption payments, and also vice-president Michel Temer who it is claimed to be involved in the 'Lavajato' (Petrobras) scandal, and both are scheduled to become president and vice-president of Brazil if the coup prospers".
Likewise the purpose of removing Rousseff and the Workers Party from the Executive, by the right wing and its allies, among which the O Globo network, the Sao Paulo Federation of Industries, FIESP and sectors of the Judiciary branch, is to retake political and continental power and to have Brazil pulled out from the leadership of a sovereign and autonomous continental integration process (Mercosur, Unasur Celac), and of the so called BRICS, and at the same time align it with the economic policies from the world big power centers.
"Given the new continental attack from the right with a new kind of coups, which we have seen made effective with president Manuel Zelaya in Honduras and against president Fernando Lugo in Paraguay, we express our solidarity with Brazil's Workers Party and the Brazilian Popular Front, and have no doubt about the need for popular sectors to remain alert in defense of democracy and against the destabilizing attempts enthroned across the continent", underlines the Broad Front.
The Uruguayan government as such, and despite having a clear majority in the Legislative, has made no comments regarding the Brazilian impeachment process, besides an initial frustrated attempt to have Unasur make a Rousseff support statement that was not supported mainly by Argentina and Chile.