Ecuador raises taxes to rebuild cities devastated by major earthquake which continues with aftershocks
Thursday, April 21st 2016 - 12:16 UTC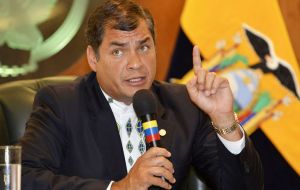 President Rafael Correa announced Wednesday night that he is raising sales taxes and will charge a one-time levy on millionaires to rebuild cities devastated by Ecuador's worst earthquake in decades. In a televised address, Correa said damages from the 7.8-magnitude quake will likely run into the billions of dollars, adding to already heavy economic hardships triggered by the collapse in world oil prices.
The task of rebuilding shouldn't fall only to communities along the coast in the quake's path but will require sacrifices from all segments of Ecuadorean society according to their ability to contribute, Correa said.
"I know we're at the most-difficult stage right now but it's just the beginning," he said.
Using authority granted by the state of emergency he declared after Saturday night's quake, Correa said sales taxes would increase to 14% from 12% for the coming year.
People with more than US$1 million in assets will be charged a one-time tax of 0.9% on their wealth, while workers earning over US$1,000 a month will be forced to contribute a day's wages and those earning US$5,000 a month the equivalent of five days' pay.
Taxes on companies will also go up, and Correa said he will look to sell certain state assets that he didn't specify. He is also drawing on US$600 million in emergency credits from the World Bank and other multilateral lenders.
The tax hikes come as the scale of devastation continues to sink in. A helicopter flyover of the damage zone Wednesday showed entire city blocks in ruins as if they had been bombed.
Late Wednesday, the government raised the death toll to 570 and climbing. Officials listed 163 people as missing while the number of those made homeless climbed over 23,500. The final death toll could surpass casualties from earthquakes in Chile and Peru in the past decade.
Even as authorities turn to restoring electricity and clearing debris, the earth continued to move. A magnitude-6.1 aftershock before dawn Wednesday set babies crying and sent nervous residents pouring into the streets. Local seismologists had recorded more than 550 aftershocks, some felt 170 kilometers away in the capital of Quito.
Rescuers who have arrived from Mexico, Colombia, Spain and other nations said they would keep searching for survivors, but cautioned that time was running out and the likelihood of finding more people alive grew smaller with the passage of every hour.
Among the survivors, the situation was growing increasingly tense. While humanitarian aid has been pouring in from around the world, distribution is slow. In Manta on Wednesday, people waited for hours under the tropical sun for water and food supplies. Soldiers kept control with fenced barricades.
Making it harder for Ecuador to get back on its feet is an adverse economic environment. Even before the quake, Ecuador was bracing for a bout of austerity, with the IMF forecasting the economy would shrink 4.5% this year.