Draghi defends ECB easy money policy despite sharp criticism from Germany
Friday, April 22nd 2016 - 08:16 UTC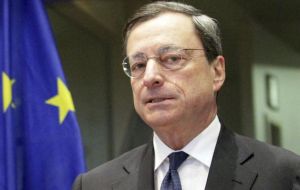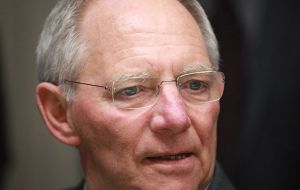 European Central Bank President Mario Draghi brushed off German criticism of his ultra-loose monetary policy on Thursday and vowed to use all the tools at his disposal for "as long as needed." He said the ECB's policy was working, which helped boost the Euro.
In a staunch defense of the bank's independence from political interference, Draghi also stepped up his calls on Euro zone governments to help get the region's economy on a more solid footing through fiscal policy and more ambitious reforms.
Speaking to reporters after the bank's governing council as expected kept key rates on hold and refrained from further stimulus moves, Draghi said the independence of the Frankfurt-based ECB was anchored in the EU treaty.
"We have a mandate to pursue price stability for the whole of the euro zone not only for Germany," he told a news conference. "We obey the law, not the politicians, because we are independent as stated by the law."
The comments came after German Finance Minister Wolfgang Schaeuble sharply attacked ECB policies, arguing they were causing "extraordinary" problems for Germany and were in part to blame for the rise of the right-wing anti-immigration Alternative for Germany (AfD).
Draghi repeatedly stressed that inflation remained far off the bank's target of near 2% and argued that the Euro zone economy still faced a cocktail of external risks and would be in a worse state today had the ECB not resorted to negative interest rates to accompany a 1.7 trillion Euro money-printing scheme.
"Our policies work, they are effective. Just give them time to fully display their effects," he said. "Global uncertainties persist. Looking forward, it is essential to preserve an appropriate degree of monetary accommodation as long as needed."
He said the bank would begin buying corporate bonds as part of its quantitative easing policy in June.
Whereas in March he suggested there might not be further rate cuts, this time he said they expected "to remain at present or lower levels for an extended period of time."
But he noted that such policies were needed so that interest rates could one day return to a higher level.
Earlier the ECB announced it would keep its main refinancing operations rate -- setting the price for banks to borrow -- at zero while it will continue to charge them 0.4% for parking money at the ECB.