Sentenced ex FIFA vice-president in home arrest following surgery in Uruguay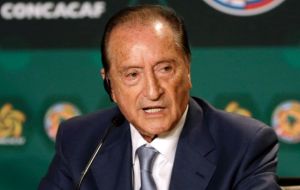 FIFA's former vice-president and ex president of Uruguay's football association Eugenio Figueredo is under home arrest following prostate surgery. Judge Adriana de los Santos authorized the 'temporary' measure while the former official recovers. He was in hospital several days given his age, 84 and heart problems.
Doctors from the Uruguayan Forensic Institute recommended that Mr. Figueredo be authorized to recover at his home. Prosecutor Maria de los Angeles Camino presented the recommendation to de los Santos.
A Special Monitoring Office, OSLA will supervise the home arrest and forensic doctors will make periodic visits to follow the evolution of surgery recovery.
Judge de los Santos said that once Figueredo recovers he will be returned to jail after being sentenced for racketeering, money laundering and repeated corruption involving television contracts.
Figueredo was detained last year when Swiss prosecutors and the FBI raided a hotel with FIFA top officials allegedly involved in extended corruption, mostly from the Americas football associations. Figueredo who has dual citizenship requested to face trial in Uruguay, avoiding extradition to the United States, where he lives in Los Angeles.
US prosecution accepted Figueredo be sent to Uruguay, where he confessed having several million dollars in real estate and bank deposits obtained through years of corruption and money laundering activities in the football industry.