Chilean Navy celebrates "Month of the Sea" in Punta Arenas
Monday, April 25th 2016 - 06:31 UTC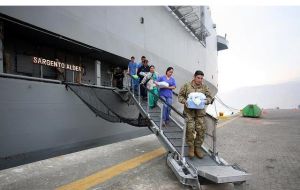 Starting this Monday and until 4 May, the Chilean navy is celebrating the Month of the Sea, edition 2016, and has chosen Punta Arenas in the extreme south of the country as the epicenter of the event which includes the visit of president Michelle Bachelet on 3 May.
The program of events which wants to solidify close links between the navy and the community includes sports competitions, gastronomy workshops, a round of conferences and a sea fair from 29 April to 3 May.
Another milestone is the arrival of the Chilean navy amphibious vessel Sargento Aldea which be acting as a floating clinic for medical, dentistry and minor surgery actions with naval doctors and specialists. The service will be offered both in Punta Arenas and El Porvenir.
Among the conferences followed by a debate is Bolivia's demand for a sea outlet in the north of Chile and the presentation that La Paz has done before the International Court of Justice in The Hague, which is scheduled to take place at Magallanes University. The tsunami alert and emergency system mounted by the Chilean navy in connection with an international network will also be addressed.
On 2 May there will be conferences on pilot Luis Pardo and his feat a century ago when he rescued Lord Shackleton's 22 stranded crewmen from the Endurance at Elephant island with the steam tug Yelcho and a second referred to the 400 years of Cape Horn discovery.
On 3 May a seminar will address issues related to links between Magallanes Region and Antarctica, and development possibilities. A military parade and display, plus S&R exercises in Punta Arenas bay will conclude the Open Day.
However in the evening at the Municipal Theatre will take place the main event with President Bachelet and Defense minister Jose Antonio Gomez attending when the Chilean navy chief will give a magister conference on strategic naval issues referred to the region.