Falklands' future leaders at the Commonwealth Youth Parliament in Canada
Monday, April 25th 2016 - 06:17 UTC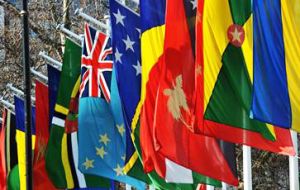 The Falkland Islands Branch of the Commonwealth Parliamentary Association (CPA) would like to invite expressions of interest in representing the Islands at the Commonwealth Youth Parliament, CYP, 2016, to be held in Canada next November.
The 8th Commonwealth Youth Parliament will be held in British Columbia, between the 6th and 10 November 2016.
The Commonwealth Youth Parliament is a chance for young people from across the Commonwealth to come together, share their knowledge and experience, and to learn more about Parliaments and the role of the Commonwealth in society.
Applicants will need to be:
• Aged 18 - 29 years old between the 6th and 10 November 2016
• Be the citizen of a Commonwealth country, and have a passport valid until the end of November 2016.
• Be available to travel to the UK onwards to Canada from 1 November returning on 13 November (if travelling directly from the Falkland Islands)
• Have an interest in political affairs and the Commonwealth
• Be willing to participate fully in discussions and debates taking place during the week, and to represent the Falkland Islands passionately and enthusiastically.
• Have an interest in taking an active role in the future of the Falkland Islands
Flights, accommodation and any visas for Canada will be provided by the Falklands Branch of the CPA.
To apply, please send a current CV and a covering letter to the Deputy Clerk of the Assembly, Mrs Cherie Clifford by email assembly@sec.gov.fk on or before Friday 27th May 2016.