Germany celebrates 500th anniversary of beer "purity law"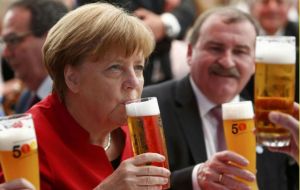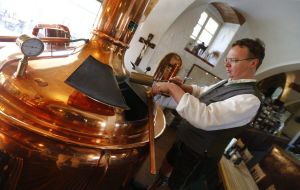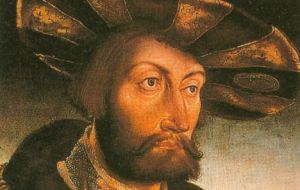 German Chancellor Angela Merkel praised the "world renown" of German beer in Ingolstadt, at a celebration marking the 500th anniversary of the beer purity law. The age-old rule has remained a staple of beer production. Hundreds of brewers from Germany and other European countries attended the celebration in Bavaria on Friday, with servers and guards in traditional costumes.
Ingolstadt authorities also set up a special beer fountain for the festivities dedicated to "Reinheitsgebot," the Bavarian "purity decree" on beer production standards signed on April 23, 1516.
Originally, the rule stated that only water, hops, and malt could be used to make beer. Later, the ingredients list was expanded to include yeast. To this day, the law remains deeply ingrained in the beer making process and brewing traditions, with its legacy shaping modern beer regulations in Germany.
German Chancellor Angela Merkel addressed the guests on Friday, praising the brewers' ingenuity in combining the four ingredients to create countless kinds of beer.
German beers enjoy "world renown," she said.
Merkel also quoted religious reformer Martin Luther who said that "a person without beer has nothing to drink," and statesman Otto von Bismarck who stated that it was a "basic need to talk bad about the government when drinking beer."
In her speech, the chancellor reflected on the new developments in the German "beer culture," noting the growing number of smaller, regional brewers and rising consumption of non-alcoholic beer.
When it comes to beer consumption in general, Germans are in second place per capita, after the neighboring Czechs. However, the average consumption has fallen from 141 liters per person to 98 liters in the last 25 years.
The treasured purity rule also limits modern generations of beer brewers when it comes to new recipes, compared to their colleagues in other European countries.
The decree known as the Reinheitsgebot, issued in Ingolstadt in 1516, had three aims: to protect drinkers from high prices; to ban the use of wheat in beer so more bread could be made; and to stop unscrupulous brewers from adding dubious toxic and even hallucinogenic ingredients as preservatives or flavorings.
They included herbs and spices such as rosemary and caraway, henbane, thorn-apple, wood shavings, roots, soot or even pitch, according to German Brewers Association, DBB
Duke Wilhelm IV's beer purity regulation of 1516, which was preceded by earlier rules on beer production, was gradually implemented in other parts of southern Germany. It eventually became law in the north and thus the whole country in 1906.
The DBB claims that the Reinheitsgebot is the oldest currently valid consumer protection law in the world. The original law limited ingredients to just barley, hops and water.
The exact role of yeast in alcoholic fermentation was not understood at the time and it was only later that brewers were able to add the micro-organism as a specific ingredient. The production of wheat beers remained limited in Bavaria for centuries but is now allowed. So the law now states that malted grains, hops, water and yeast may be used - but nothing else. Beers brewed according to the Reinheitsgebot have special status under European Union laws as a protected traditional foodstuff.