South Atlantic poacher Hua Li 8, arrested by Indonesian for illegal fishing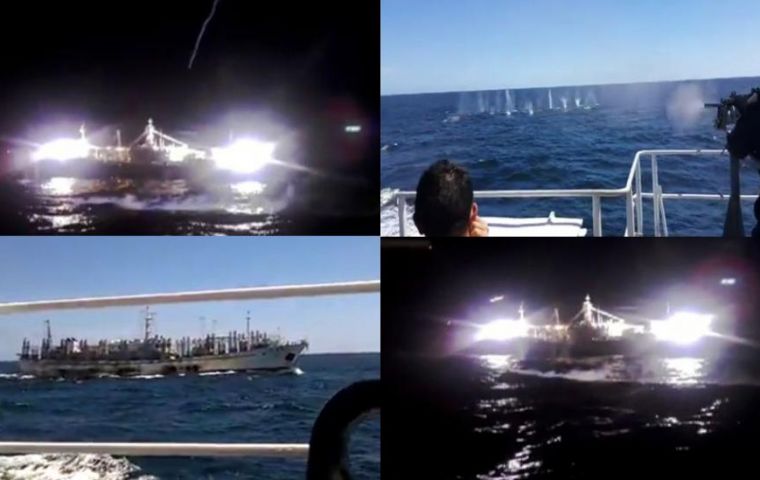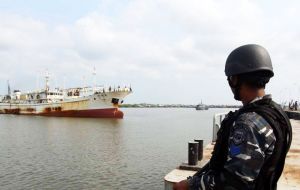 Almost two months of efforts coordinated by Interpol with the cooperation of seven countries on four continents, the Indonesian Armed Forces arrested one of the most wanted poaching fishing vessels. On January 29, the Chinese flagged Hua Li 8 was detected fishing within the EEZ of Argentina, which triggered an immediate operation to arrest the vessel. But despite the display of patrol vessels and aircrafts, and warning shots, the vessel managed to escape.
Following the incident, Argentina's Judiciary issued an international arrest warrant against Hua Li 8, under the category of 'Purple Notification', allowing other nations to take action in line with the Argentine request.
"On Friday April 22, on the Earth Day, the Indonesian Navy was informed on the presence of the vessel in its territorial waters, and did not hesitate in arresting and taking her to port. Then, at the request of an Argentine court, the vessel was inspected, and statements from crew members were collected," informed Milko Schvartzman to FIS.com.
Marine conservationist Schvartzman claims that despite awareness of destructive fishing within the EEZ of countries, what happens in international waters is even more serious, but much less is known.
Hua Li 8 in a vessel involved in IUU (Illegal, unreported, unregulated) fishing and just one of a fleet of thousands raiding waters of those countries with limited ability to control sovereign resources, or simply prey in international waters that are uncontrolled.
"This vessel, as many others, uses slave labor, does not meet any safety navigation standards, and much less those regulating fisheries management or environmental protection," claims Schvartzman.
"China not only has the largest fishing fleet in the world, but its vessels are sent to all corners to explicitly plunder the resources of the least developed countries."
"In Asia, Africa, and Latin America, swarms of fishing vessels that are subsidized by the Chinese State, plunder fishery resources, destroying local coastal economies and damaging the entire marine ecosystem," he adds.
Schvartzman stresses that Indonesia is constantly bullied by pirate ships, especially from China, a situation that keeps both countries under a high diplomatic tension.
"Because of the extent of the problem, authorities maintain a tough policy against illegal fishing," points out the Argentine environmentalist. In 2014, Indonesia established the 'Presidential Task Force to Combat Illegal Fishing', and has taken "dramatic and bold actions against the captured ships, such as blowing them up". Allegedly so far, Indonesia has destroyed 170 vessels arrested illegally fishing.