Argentine needs US$ 37bn to address the budget deficit and foreign debt payments
Monday, May 2nd 2016 - 07:54 UTC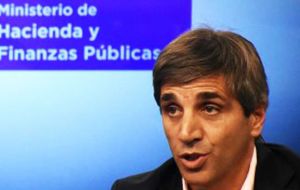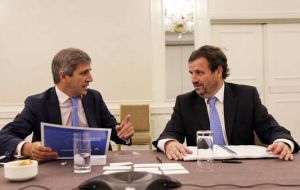 Argentina will issue a fresh round of dollar-denominated debt notes worth an estimated US$8 billion in the next few days, top officials from the Finance Ministry confirmed. The government will "very soon" issue a new Treasury note to capture dollars that are being stored "under the mattress" in a process that will kick off with a meeting with bankers, Finance Secretary Luis Caputo said.The Argentine government hopes to bring in US$5 billion through the issuance.
In addition, a further US$3 billion — at a later date — will be sold in bonds to larger funds willing to invest in Argentina, while a re-financing process will address an existing US$5 billion which has to be repaid this year.
The plan says that US$37 billion in total is needed this year in order to finance a combination of the government's anticipated deficit, an estimated US$24.2 billion, and an additional US$12.4 billion in outstanding foreign debt payments.
The moves are part of the president Mauricio Macri administration's "financial program" for this calendar year, which Caputo and Deputy Minister Pedro Lacoste unveiled
"We are in line to comply with our targets and we are very comfortable with our goals for the year, which amount to a fiscal deficit of 4.8% of GDP," Lacoste told members of the press. "We have congressional authorization to pay the holdout funds and the rest of the money we raised is in line with the 2016 budget."
According to the officials, the Argentine government already holds in excess of US$7 billion from the US$16.5-billion global bond sale last week, from which less than US$10 billion was used to pay off the holdouts. That leaves a US$30-billion deficit and debt payments remaining and needing to be covered. That money, officials said, will come from a multitude of sources.
Central Bank money printing will provide a third of it, 160 billion pesos in total, which equates currently to roughly US$11 billion.
In other words Argentina's money-printing will continue throughout this year, although at a much smaller pace than in 2015, when analysts believe it soared by up to 50%. That would help the government reduce inflationary pressure in the second half of the year, although doubts remain over whether that will be enough for the government to reach this year's growth and inflation targets.
What will increase, instead, is foreign debt, as the cash payments that had been the norm during the Kirchnerite administration will no longer take place, with re-financing the preferred alternative.
President Mauricio Macri's administration hopes that future debt roll-overs will be carried out at smaller interest rates than seen this year, in which the country offered higher rates than most of its neighbors in order to stoke interest.