Chile's economy slows down and unemployment climbs higher that forecasted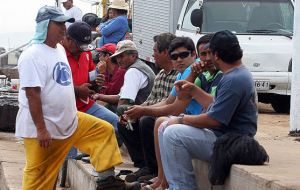 Chile's jobless rate rose more than expected in the first quarter as two years of sluggish growth finally caught up with the labor market, signaling stronger headwinds for South America's wealthiest economy.
Unemployment rose to 6.3% from 5.9% in the month-earlier period and from 6.1% the year earlier, the statistics agency reported last Friday. Manufacturing increased 2.7% in March from the year earlier, while retail sales gained 1.4%.
After two years of analysts forecasting doom and gloom for Chile's labor market and being repeatedly proved wrong, the economic slowdown is beginning to take its toll. Earlier this week, a separate survey by Universidad de Chile found that unemployment in the Santiago Metropolitan Region leaped to a six-year high of 9.4% in March.
The long-heralded weakness in the jobs market now threatens to undermine consumer spending in an economy already reeling from two years of declining investment.
"Growing signs of deterioration of the labor market are a source of concern, for they may remove an important lever of support to private consumption," analysts at Goldman Sachs said in an emailed note. "Job creation in March was largely dominated by gains in self-employment, suggesting it may be turning increasingly difficult to find a formal job."
The jobless rate was hovering near the lowest levels in 17 years at the end of last year, even as the economy expanded at the slowest pace since the 2009 recession. That strength in the labor market may now be ending.
Women saw the biggest jump in the unemployment rate in the first quarter, rising to 7.2% from 6.8% the month before.
The strong labor market had helped push up wages and increase consumer spending in each of the past eight quarters on an annual basis, according to figures from the central bank. Investment, by contrast, had fallen in six of those eight.
Finance Minister Rodrigo Valdes asked economists to avoid alarmist forecasts. "Numbers show an increase in unemployment, but I think it is within the current parameters given the outlook for growth," Valdes said.