Macri claims Argentina hid unemployment with 'worthless public jobs', at Labor Day event with dissident union
Monday, May 2nd 2016 - 08:18 UTC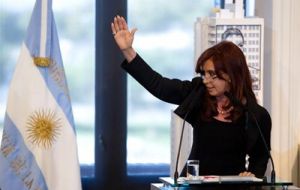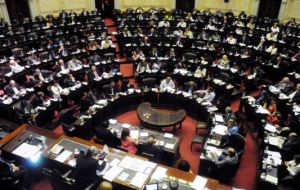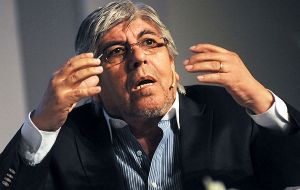 Argentine president Mauricio Macri attended an event at a dissident union headquarters in the City of Buenos Aires where he marked the Labour Day with unionized workers of the food sector, and blasted the previous administration for hiding unemployment with public jobs.
Macri was joined by First Lady Juliana Awada and Cabinet Chief Marcos Peña among other officials. Barrionuevo was expected to take part in the celebration but the historic CGT Azul y Blanca leader Luis Barrionuevo called off his attendance at last moment saying he had "flu."
President Macri delivered a speech saying Argentina has not created "quality jobs" over the past five years, with the administration of his predecessor Cristina Fernández "hiding unemployment under 'worthless public jobs'."
"The addition of worthless jobs is a road in bad conditions where Argentines lose their lives," Macri said as he questioned the bills sponsored by opposition sectors in Congress aimed at stopping the wave of dismissals in both the public and private sectors as "arbitrary."
"If it was a matter of laws, instead of keeping what we have, let's have a law that says that we are all happy," the president affirmed.
"Few things are more important in life than working, it is a pillar in people's lives," he said adding the creating of jobs is "the main challenge" of his administration.
Meanwhile Secretary General of the CGT umbrella labor organization Hugo Moyano highlighted the "massive" turnout at Friday's Labor Day demonstration where thousands of unionized workers protested against the Macri's administration government adjustment policies, with all five umbrella unions staging a rally together for the first time in decades.
"When it comes to concentrated sectors there are answers and when there are demands for a plate of food there is no sensibility," Moyano said in statements to a Buenos Aires radio station.
"We are very satisfied because it was a multitudinous rally that went one with complete normality despite the fact that union organizations that have not rallied together for a while took part," the CGT boss considered all demands presented on Friday´s rally were "fair," with union leaders "expecting the government to give answers" to workers' demands.
Queried about the parliamentary debate currently taking place in Congress over the anti-dismissals bill pushed by opposition parties, Moyano said he expected the project to be signed into law. If President Mauricio Macri vetoes it, Moyano did not rule out the possibility of calling for a general strike.