Temer promises to combat corruption by strengthening anti-graft institutions
Monday, May 2nd 2016 - 08:33 UTC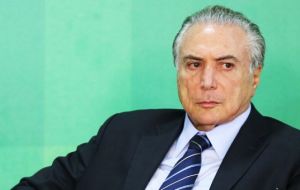 A government led by Brazilian Vice President Michel Temer would press ahead with the country's corruption fight by strengthening anti-graft institutions and enacting tougher controls over state-run companies, and will also implement an education reform, according to a six chapter document leaked to the Sao Paulo media.
One 17-page document serves as a blueprint for policies on health, education and social issues under a future Temer government and is expected to be released next week. Temer could be leading Brazil in a matter of weeks if, as expected, the Senate suspends President Dilma Rousseff for allegedly breaking budget laws.
His critics have said Temer would try to hamper Brazil's biggest ever corruption probe, known as Operation Car Wash, which has involved many politicians from his Brazilian Democratic Movement Party (PMDB).
In the document PMDB calls for guarantees of increased funding for the federal police, which is one of the institutions leading the Car Wash investigation. The document also calls for the government to grant more powers of oversight to the national comptroller's office and legislation to impose tougher penalties for corrupt executives at state-run companies.
Infrastructure projects would be left in the hands of private companies under the new government, with measures ensuring enhanced scrutiny of major projects, the document says. Temer's aides have said his government would step up concessions for private sector companies for infrastructure, urban transportation, basic sanitation and housing projects.
Another chapter refers to profound changes to the Brazilian education system, including bonus payments to teachers who improve their professional qualifications and student performance.
Known as the "Social Passage", the document also contains plans for a "complete reform" of the middle school system, with restructuring of the curriculum which will permit students to focus on professional training at this stage.
The document was drawn up by the Fundação Ulysses Guimarães, a PMDB center of study headed by former minister Moreira Franco, one of Temer's right hand men.
The document also received contributions from various figures who may form part of an eventual Temer administration, such as the economist Ricardo Paes de Barros and PSDB senator for São Paulo José Serra.
In the chapter addressing education, the "Social Passage" advocates a "greater presence of the Federal Government in basic education [from 6 to 14 years of age]", stressing that the "priority should be improvement in the early years."
Currently, basic education is the responsibility of municipal governments, with middle school education [from 15 to 18 years of age] being the responsibility of the states.
Bonuses for teachers have already been implemented in some states, such as São Paulo and Piauí. The issue is controversial, with many specialists arguing that there is no proven link between bonus payments and improvement in teaching quality.
Teaching unions have criticized what they see as intermittent extra remuneration rather than permanent investment in improved salaries for teachers.