Miami sea-food sentenced for falsely labeling Chilean salmon as Scottish
Tuesday, May 3rd 2016 - 07:12 UTC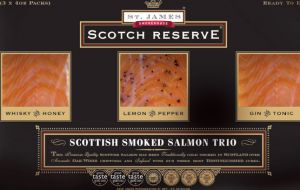 A Miami-located seafood company was sentenced in a Federal Court for falsely labeling salmon in December 2012 in violation of the Lacey Act, National Oceanic and Atmospheric Administration (NOAA) informed.
The sentenced firm, MKG Provisions, also known as UpRiver Aquaculture, will have to face three years of probation and a US$ 50,000 fine for labeling Chilean-imported farmed salmon as a "product of Scotland".
At sentencing, the court advised MKG's General Manager, who appeared as the representative of the defendant that the probationary period would also serve to provide oversight of the company's implementation of a government-required compliance plan to prevent a recurrence of the offense.
According to court documents, MKG received a shipment of approximately 286 cases of salmon at its Miami facility, which was accurately identified in applicable business and importation related records supplied to MKG, as well as records generated internally by MKG, as a product of Chile and originating from Chile.
These documents reveal that MKG, acting through its employees and in connection with its business relationship with a client, St. James Smokehouse Inc., processed, smoked, and repackaged the salmon into bags provided to MKG by St. James Smokehouse, which identified the salmon as a product of Scotland.
NOAA Office of Law Enforcement found out that the falsely labeled salmon was intended for wholesale distribution and sale by St. James Smokehouse and was eventually sold to consumers through various retailers to which St. James Smokehouse had sold the salmon.
St James Smokehouse has won many awards for the quality of its products and for exporting, as well as a European grant for its Scottish processing plant, BBC informed.
Prosecutors did not publish evidence that the Smokehouse company knew that MKG had sourced its fish from Chile. However, it raises questions of whether it did enough to ensure the quality and legality of its branded products. (FIS).