Venezuela's explosive situation makes Pope Francis send a "personal letter" to Maduro
Tuesday, May 3rd 2016 - 06:00 UTC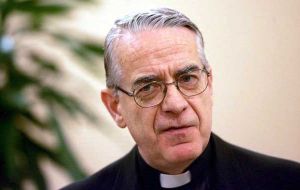 Pope Francis has sent a "personal letter" to Venezuelan President Nicolás Maduro in which he addresses his concern over the "seriousness" of "the county's situation", revealed papal spokesman Federico Lombardi confirmed to journalists this weekend.
"I can say that the Pope did write a personal letter to President Maduro concerning the situation in the country" said Lombardi who added that: "the seriousness of the situation is also clearly shown in the recent statement by the Bishops on April 27, when Nuncio Monsignor Giordano very clearly spoke out in favor of dialogue sponsored by the Pope".
Additionally, the papal spokesman repeated Francis' message from the Urbi et Orbi blessing from Easter, where he requested that the Easter message "be felt ever more powerfully by the beloved people of Venezuela in the difficult conditions which they are experiencing, and by those responsible for the country's future, that everyone may work for the common good, seeking spaces of dialogue and cooperation with all. May efforts be made everywhere to promote the culture of counter, justice and reciprocal respect, which alone can guarantee the spiritual and material welfare of all people."
After his success as an interlocutor in neighboring Cuba, and his willingness to plant himself firmly in the middle of political disputes ranging from Europe's immigration crisis to Ukraine's civil war. An intervention from Pope Francis into the mounting political tensions in Venezuela appears more and more likely as the various problems affecting the country continue to deepen.
Amid a debilitating energy crisis, shortages of basic goods, and increasing violence, the country's powers are embroiled in a political deadlock that looks only to lead to a pyrrhic outcome.
Since winning a landslide victory in December's legislative elections, the opposition took control of the National Assembly with an absolute majority and have approved a series of bills that have been shot down one by one by the country highest court, which the opposition alleges is under the thumb of Maduro's Socialist government. Maduro, in turn, accuses the opposition of arming a coup against him and of working for regional right-wing and US imperial interests.