Argentine unions claim April inflation reached 5% and 40.85% in 12 months
Wednesday, May 4th 2016 - 08:40 UTC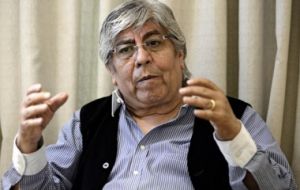 Inflation in Argentina during April reached 5.02% and 40,85% in the last twelve months according to the unions umbrella organization CGT Economic and Social observatory, which was released on Tuesday.
The CGT observatory which responds to the powerful teamsters union leader Hugo Moyano, said that inflation in Argentina during the first four months of the year was over 16%, and food items, a basic ingredient of the basic basket used to measure poverty and indigence "has sustainedly increased at a higher rate than the overall inflation".
The so called "cleansing" of the economy has two sides which clearly express the horizon of the current economic plan: on one side the transfer of assets to the highly concentrated sectors of economic power, and the other the increase of public utilities rates, power, transport and prices overall, pointed out the release from the Observatory.
Likewise an inter-annual inflation over 40% means a huge take from the purchasing power of workers, which can't be addressed, "not even with salary and benefits negotiations".
In a reference to president Mauricio Macri's hope that the second half is going to be "very positive" as far as inflation and jobs are concerned, the Observatory release points out that "nothing indicates that when we reach the second half, good news will come pouring in as magic".
Furthermore Moyano said in a radio interview that if inflation goes down it is because "unemployment will have soared", and nobody knows what can happen.
Argentine unions set up their own prices and services stats office because they ended by not trusting any official percentages under the Kirchner years.