Brazil's Lower House speaker removed by the Supreme Court on justice obstruction
Friday, May 6th 2016 - 08:22 UTC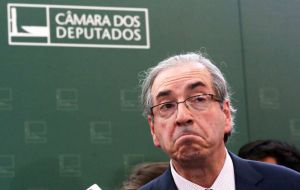 Brazil's Supreme Court removed the speaker of the lower house of Congress on Thursday on charges of obstructing a corruption investigation, days before an impeachment process that he engineered was expected to oust President Dilma Rousseff.
The removal of Eduardo Cunha, a bitter rival of Rousseff and one of Brazil's most divisive public figures, was the latest in a series of political earthquakes in South America's largest country as it struggles with a sweeping corruption scandal and the worst recession in decades.
The Supreme Court voted unanimously to approve a request by Brazil's top prosecutor to strip Cunha of his influential post for allegedly intimidating lawmakers and obstructing an investigation into accusations that he held undeclared bank accounts in Switzerland. Cunha said he would appeal.
An evangelical Christian with strong support from the religious right in Congress, Cunha has for months fended off ethics committee hearings in the lower house about whether he lied about the accounts, using every trick in the procedural book.
The bespectacled speaker with slicked-back hair has remained unflappable, calmly denying prosecutors' accusations he had used the Swiss accounts to stash millions of dollars in bribe money.
Cunha is the only sitting lawmaker so far officially charged by the Supreme Court with corruption in the sweeping kickbacks scandal focused on state oil company Petrobras.
Deputy speaker Waldir Maranhao, a member of the Progressive Party who is also being investigated in the Petrobras scandal, became acting head of the lower chamber with Cunha's suspension.
As speaker, Cunha stood third in the line of presidential succession and would have become second if the Senate decides next week, as expected, to try Rousseff for alleged budget irregularities. Cunha launched impeachment proceedings against Rousseff in December on charges she broke budget laws. His suspension could have helped Rousseff had it come earlier.
Now, it could work against Rousseff by weakening her argument that she is being impeached by corrupt politicians. It may instead help vice president Michel Temer by eliminating a tainted ally with whom the new president, if Rousseff is suspended, would have had to negotiate legislation.
A Temer government would desperately need to pass reforms to revive confidence in Brazil's ailing economy and plug a budget deficit that exceeded 10% of GDP last year. Fitch Ratings downgraded Brazil's sovereign debt further into junk territory on Thursday, to BB with a negative outlook, citing a very challenging political environment.
Cunha is accused of taking US$5 million in bribes on contracts for two drill-ships in the corruption scheme that engulfed Petrobras two years ago.
Should Temer become president, Senate leader Renan Calheiros, another politician who is under investigation for corruption, would become the next in line to lead the nation.
Temer would serve out the remainder of Rousseff's term through 2018, and would not be able to run for president. The Sao Paulo state electoral court ruled this week that he exceeded the limits of campaign donations in 2014 and cannot run for elected office for eight years.