Republican party orthodoxy waiting for a unifying message from the Trump challenge
Friday, May 6th 2016 - 07:00 UTC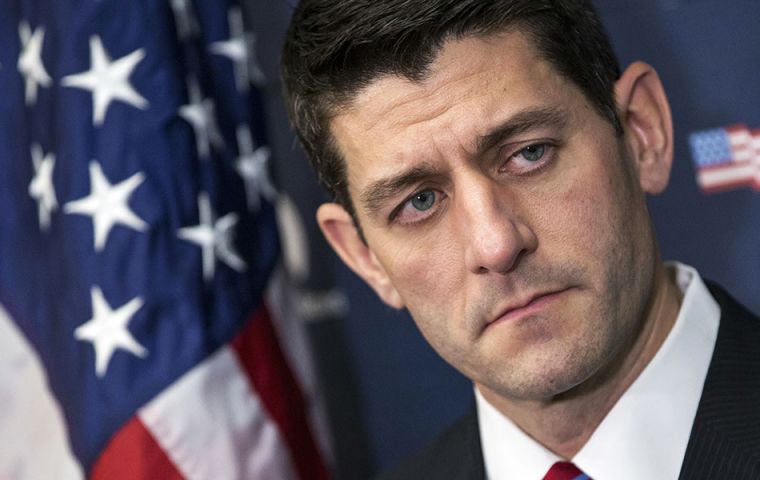 United States Speaker of the Lower House and one of the most powerful members of the Republican party, Paul D. Ryan thrust open Thursday the discomfort that many party members are feeling about Donald Trump as their presumed presidential nominee, withholding his support and deepening the fracture between the outsider candidate and the party he hopes to lead.
Ryan, the highest-ranking elected Republican, boldly proclaimed that he was not ready to back Trump, adding a dramatic moment to the turbulent campaign season, but he also offered a path forward if Trump hopes to rally a reluctant GOP around his candidacy.
"Conservatives want to know: Does he share our values and our principles on limited government, the proper role of the executive, adherence to the Constitution?" Ryan said from his home state of Wisconsin during an interview on CNN. "There are a lot of questions that conservatives, I think, are going to want answers to, myself included."
Asked directly whether he could support Trump as the nominee, Ryan said: "I'm just not ready to do that at this point. I'm not there right now."
Injecting himself into the presidential campaign will not come without political costs to Ryan, who has tried to remain above the fray, and the fallout began almost immediately as Trump shot back a dismissive response.
The businessman, it turns out, is not a fan of Ryan's brand of Republican, either.
"I am not ready to support Speaker Ryan's agenda," Trump said in a statement. "Perhaps in the future we can work together and come to an agreement about what is best for the American people."
The two are arranging to meet next week, Republican officials said, when Congress returns to Capitol Hill after a recess. But a photo-op summit is not the kind of moment that could easily resolve the stark political and policy differences that threaten to tear apart the GOP.
Not only does Trump stray from Republican Party orthodoxy on some of the most consequential issues – foreign policy, trade, entitlement spending – his negative approval ratings among wide swaths of the GOP electorate threaten the party's bid for the White House.
By withholding support, Ryan is pushing Trump to come up with a way to unify the fractured party by presenting a credible strategy to broaden his appeal. Otherwise, the speaker warned, the party's hopes for winning the presidency, and preserving its majority in Congress, are at risk.
"He's reflecting a large part of the party that's thinking through how to define what Trump needs to accomplish," Republican pollster David Winston said, adding that Trump's "huge negatives" among voters are like nothing the party has ever seen.
"There's an expectation he has to have a plan to address that. Let's see it."
Republican leaders have struggled to explain where they stand on Trump's rise, with many trying to wiggle around the issue while the primary campaign dragged on.
The Republican leader of the Senate, Mitch McConnell of Kentucky, issued the most cautious of statements this week after it became clear that Trump would become the party's nominee.
But once it became clear that the billionaire was the party's nominee-in-waiting after rival Ted Cruz ended his candidacy Tuesday, the speaker took a day to mull over his options, then dispatched with the pleasantries and booked his time on live TV.
Ryan drew on Republican history, as the party of Abraham Lincoln and Ronald Reagan, in warning Trump to broaden his appeal beyond the cache of voters who favor his most controversial proposals, a nod to the speaker's rejection of Trump's proposed ban on Muslim immigrants.
"We hope that our nominee aspires to be Lincoln- and Reagan-esque," Ryan said, and "that person advances the principals of our party and appeals to a wide, vast majority of Americans."