Lord Price said UK and Argentina at the start of a new era of bilateral relations
Saturday, May 7th 2016 - 06:20 UTC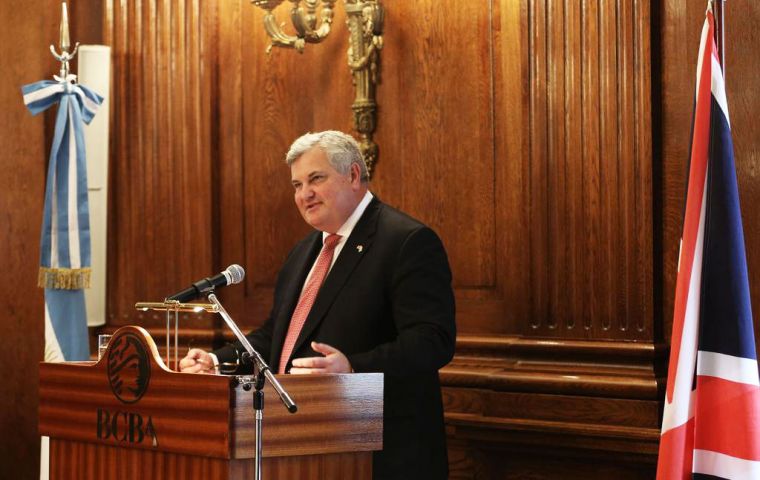 British Trade and Investment Minister, Lord Price said that Argentina and the UK are at the beginning of a new era in bilateral relations and in an excellent position to turn common interests into concrete business interests. Lord Price together with a mission of UK top business leaders ended on Friday a two-day visit to Argentina, the first in ten years.
The mission of Lord Price included representatives from ten leading UK corporations that are looking for business and investment opportunities in South America and particularly in Argentina and Colombia, second and third largest economies in the region.
The business delegation is made up of senior executives from a range of sectors including finance, infrastructure, pharmaceutics, architecture and transport – all areas in which the UK has expertise and where Argentina could benefit as it undertakes an ambitious reform agenda, pointed out the British minister.
Lord Price had a round of meetings with government officials and with the private sector among which the Buenos Aires Stock Exchange and the Rural Society. On Thursday the visitor met at the UK embassy with Trade Secretary Miguel Braun and Production minister Francisco Cabrera. Later he visited Transport minister Guillermo Dietrich.
The Argentines extended an invitation to UK companies to get involved in an ambitious infrastructure plan which president Macri's administration is ready to launch. Lord Price on his side insisted on the significance of advancing the EU-Mercosur trade and cooperation agreement to further sponsor trade and investments.
Later in the day Lord Price was invited to visit one of Buenos Aires iconic train stations, originally built by the British in the mid 1800th and which is currently being converted into an electrified railway system by a UK company.
On the last day the British delegation had a round of talks with the Argentine Rural Society, the strongest agriculture lobby in the country, and cooperation was one of the main issues addressed given that British breeds make up most of Argentine livestock.
This was followed by a presentation at the Buenos Aires Stock Exchange, including conferences from the Argentine side and visitors. There was much praise for President Macri's reform policies and efforts to put Argentina back on the world map and its return to global financial markets.
"We're at the start of a new era in the relations between our two countries" recalling the long established links, historic friendship and common interests. "I've come to Argentina because I believe there is an opportunity to transform those common interests into concrete business interests", underlined Lord Price.
Renewed relationships must also work on opportunities and trade accords and "that's why I want to see real progress on an EU-Mercosur free trade agreement".
Before arriving in Argentina Lord Price and the UK mission spent several days in Colombia with similar purposes, promote business, trade and investments.