Jobs, layoffs and severance payment at the heart of Argentina's public debate
Monday, May 9th 2016 - 07:14 UTC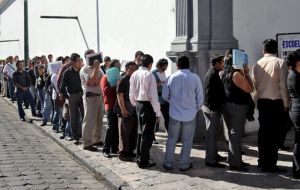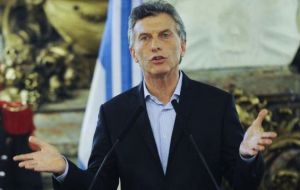 Unemployment and jobs are in the heart of public debate in Argentina. A public opinion poll released last week revealed that 48.3% of Argentines fear he/she or a relative might lose their jobs in the next six months.
The Analogías poll showed that in reply to the question, what are the probabilities that you or a relative might lose your jobs this year, 22.9% said very much; 25.4% said that the probability was high, which adds up to 48.3%.
As to what are the chances that unemployment increases this year, 34.9% replied very much, and 29.8%, high, which means 64.7%.
Likewise while the Argentine congress is in the middle of a high pitched debate over a bill which would freeze layoffs for the next 180 days, and which president Mauricio Macri has anticipated he would veto, 63.4% are in support of the bill that protects jobs.
In effect, the poll showed that 44% of respondents are very much in agreement with the bill, while 19.8%, agree that the legislation should be promulgated.
One of the most controversial points refers to a double severance bonus for whoever is sacked, and the poll found out that 41% of interviewees said to be very much in agreement with the double severance, and 20.1% in agreement, adding up to 61.1%.
The bill has already passed the Senate and only this last week finally arrived to the Lower House, with government delaying the process hoping for time to negotiate and introduce some amendments.
The issue is significant since business chambers admit 120.00 redundancies since Macri took office, while unions insist its double the number plus those sacked from government including Senate staff. Furthermore severance payments are already, with no need to double them, very generous for employees and very expensive for employers.
The poll also asked about the impact on investment if the bill is finally passed, and 24% said they are very much in agreement that it was a possibility, while 27.5% agreed it was possible. This adds to 51.5%.
According to political analysts the debate has strained relations in the fragile coalition in congress which so far has accompanied most of the Macri administration initiatives including paying holdouts and ending the fifteen year litigation.
In the Macri cabinet apparently there are also the so called doves and hawks regarding the layoff bill given the fact that the government is demanding the private sector helps out with promised investments to spur the economy and create jobs.
"We fixed the dispute with the holdouts, so now there's no reason to hold back on the anticipated investments. We disagree with the bill freezing layoffs, it will limit access to those looking for jobs, but we must work out a compromise in Congress", said a source close to cabinet chief Marcos Peña.
In recent statements president Macri said that he is aware of current hardships for Argentines and their fears about the employment situation but pointed out the bill is not good, it limits employment, and there is a majority who want out of years of stagnation.
"There is a majority of Argentines who bet on growth, the future. We believe Argentines can do more, making our way out of stagnation and creating quality employment," Macri said, reiterating "there is no such problem as massive layoffs, but a problem of stagnation."
"We are convinced this bill is not good. I cannot validate something I believe is bad for Argentines," he stressed.
Last week also most probably in support of its position and to help contain inflation roaring at an annualized 40%, announced the launching of a system to provide a basket of 400 basic items at stabilized prices for the next four months. This is backed with a digital program, "Clear prices", with details of prices, outlets and providers, which can be consulted by any consumer.