Lawmakers planning to remove House acting speaker who annulled Rousseff's impeachment process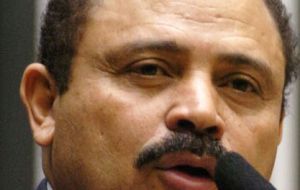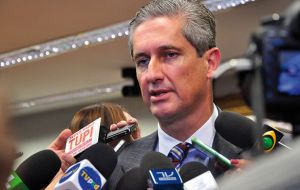 Waldir Maranaho's acting speaker post in Brazil's Lower House and his decision to annul the April 17 impeachment procedure vote against Dilma Rousseff, could be on the fire line, and even the countdown, following on fourteen parties decision to impede him from acting, according to Veja, Brazil's leading magazine.
Apparently Maranaho has called for an extraordinary session this Tuesday with an agenda that includes 64 points. But the dissident lawmakers are planning not to be present thus impeding the necessary quorum to consider any bill. Likewise dissidents plan to boycott the meeting of the different party groups leaders which also takes place on Tuesday
Furthermore the fourteen parties agreed on Monday evening to call for a Lower House session for Tuesday evening with an only matter to be considered: invalidate Maranaho's annulment of April's vote to continue with Rousseff's impeachment process.
Veja anticipates a 'tumultuous' session with Rousseff's allies acting with their 'obstruction kit' to bar the House from taking a vote.
"Deputy Maranaho clearly lost all political possibility of leading this House after this most bizarre decision" said the president of the impeachment commission, Rogerio Rosso.
Another lawmaker, Pauderney Avelino said that "we are not going to allow him to conduct the debate".
Besides the dissidents will try to press on to Maranaho to revoke his annulment decision, or find an alternative that ends the controversy, or having him continue as acting speaker of the House..
Waldir Maranhao represents the state of Maranaho in the northeast of Brazil, and one of the poorest in the Union. He was elected to congress in 2006 with the conservative Progressive Party, and before that he was the Dean of the State's University. He is a veterinarian by training, and has a son who is an anesthetics doctor.
He is also mentioned in the Prosecution's original list of 52 lawmakers allegedly involved in the Petrobras corruption scandal and his son has been accused of holding several public posts while completing his studies in the state of Sao Paulo, plus having made a donation to his father's campaign above the electoral limits based on declared income.
His political base in Maranaho State is considered weak and so is his political future, which helps to explain his alignment with Dilma Rousseff and contrary to the impeachment process despite his party's position, according to media reports in Brazil.
"He is playing to impact on his state, and his personal political interests", said one of Sao Luis news webs. Sao Luis is Maranaho's capital.
Maranaho state among the poorest in Brazil had until a few years one of the richest and strongest political clans, the Jose Sarney family. Sarney was a close ally of the military dictatorship that ruled Brazil for almost 20 years and, but later ended as the first president in democracy, on the death of the head of the ticket, Tancredo Neves (1985).
Sarney was later president of the Senate, and the legislative agenda, which turned him into a close ally of ex president Lula da Silva, ensuring him governance. However this had a price and Lula had to defend Sarney from the repeated claims of corruption, and also had to be generous with funds for the impoverished state.