Rousseff's impeachment process back on track: Senate votes on Wednesday
Tuesday, May 10th 2016 - 17:47 UTC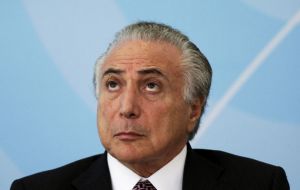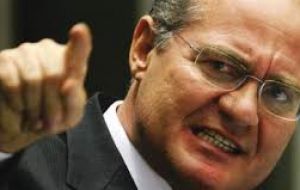 Brazilian President Dilma Rousseff's impeachment process and possible suspension from office is back on track after the acting speaker of the Lower House, Waldir Maranhao repented and withdrew his controversial decision to annul an April 17 impeachment vote.
The Senate is scheduled to vote on Wednesday whether to put Rousseff on trial for breaking budget laws, and if as is widely expected, a simple majority agrees to hold the trial, she will be automatically suspended from office for up to six months.
Vice President Michel Temer would take over as acting president, and if Rousseff were convicted and removed definitively, he would stay in the post until elections in 2018.
As the prospect grew of Rousseff's ouster and a potential end to 13 years of rule by the populist Workers Party (PT), anti-impeachment protesters blocked roads with burning tires in demonstrations in Sao Paulo, the capital Brasilia and other cities, snarling morning traffic. Likewise PT and labor unions called for a national strike to resist what they call a "coup" against democracy.
Speaker Waldir Maranhao's surprise decision on Monday to annul the Lower House's April vote threw Brazilian markets into disarray and threatened to drag out a painful political crisis with a constitutional standoff that could have ended up at the Supreme Court.
Brazil's currency, Real, strengthened on Tuesday after the speaker's reversal, a reaction of investor hopes that a more market-friendly government will soon take over the recession-hit country under Temer, who allegedly already has negotiated a working majority in Congress and a cabinet with strong pro-business figures, such as Henrique Meirelles, a former CEO Boston Bank and ex governor of the Brazilian central bank.
In a statement to the Senate, Maranhao did not cite any reason for backtracking on his decision to annul due to "procedural flaws" the lower house's April 17 vote. The vote had overwhelmingly recommended that the Senate try Rousseff.
Maranhao, a little known politician before taking over last week after the removal of Eduardo Cunha for obstruction of a corruption investigation, faces expulsion from his center-right Progressive Party, which supports Rousseff's impeachment.
Senate President Renan Calheiros said Monday that Maranhao was "playing with democracy" and vowed the Senate would press ahead with Wednesday's vote. Rousseff's opponents have more than the 41 votes needed to launch her trial in the upper chamber, and they are confident they can muster two-thirds of the 81 senators, or 54, to unseat the unpopular president at the end of a trial that can last up to six months.
If the ruling coalition loses Wednesday's vote, Rousseff will be served notice by the Senate on Thursday, at which point the suspended president must vacate the presidential palace. She can continue to live in the presidential residence during the trial. Temer would step in as interim president as soon as she is given notice.
The impeachment process comes as Brazil is mired in its worst recession since the 1930s and shaken by the country's biggest ever corruption scandal - which have paralyzed Rousseff's second-term administration.