Rousseff clears her office; full Senate votes to suspend the president
Wednesday, May 11th 2016 - 09:59 UTC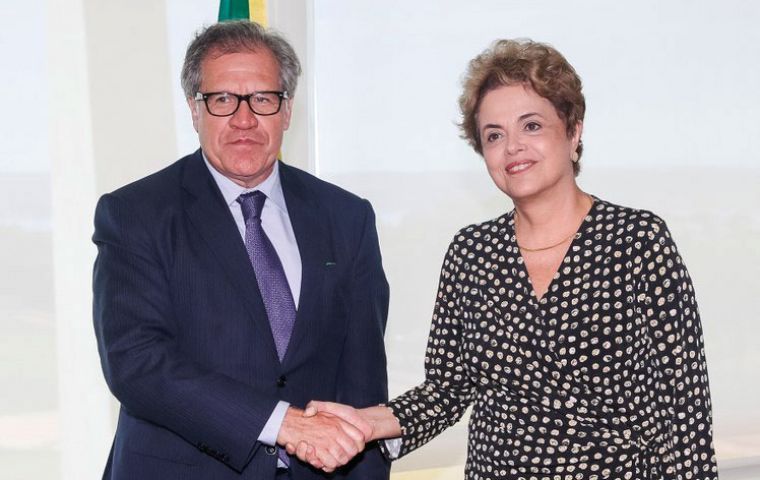 Brazilian President Dilma Rousseff has packed up personal photos and stripped the shelves in her third-floor office in the Planalto presidential palace, a sign she is accepting the loss of her job in a Senate vote on Wednesday.
In what could be one of her final meetings as president, Rousseff received the secretary general of the Organization of American States on Tuesday, as guards tried to stop photographers from documenting signs of an impending move.
Though government lawyers have asked the Supreme Court to stop the Senate vote, an aide said privately the populist Rousseff expects to receive official notice on Thursday of her suspension on charges of violating budget laws.
The special Senate session, widely expected to vote to put Rousseff on trial, could run until late on Wednesday.
Vice President Michel Temer will then take over as interim president for the duration of a trial that would last up to six months, and Rousseff could then be removed permanently if convicted. She has denied any wrongdoing.
Brazil's first woman president, plans to exit the futuristic presidential palace accompanied by close political allies, descending a ramp she previously climbed twice to take office in 2011 and again in 2015, the aide said.
Unions, artists and other social movements that stayed loyal to her through a deep recession and a massive corruption scandal that saw her popularity fall to single digits have promised to meet Rousseff in the streets to protest.
If suspended, Rousseff will still have access to her official residency, the Alvorada Palace, and a staff of 300 during the trial. Her staff is negotiating for an additional 15 to 20 personal aides and for access to a plane from the air force, and several vehicles the aide said.