Falkland Islands' biosecurity officers thwart Argentine ant army invasion
Monday, May 16th 2016 - 21:42 UTC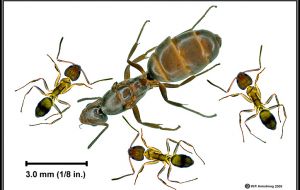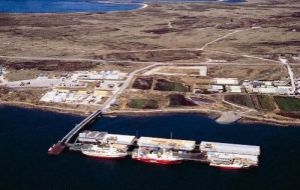 By Ross James, Biosecurity Officer for Penguin News - An Argentine army, thousands strong invaded the Falklands recently, and their arrival went unnoticed for several weeks before the alarm was raised. The Argentine Ants arrived aboard a yacht which had sailed non-stop around the world from Australia, non-stop that is until huge waves swept the singlehanded 78 year-old sailor overboard and capsized his yacht as he rounded Cape Horn. In a stroke of luck a subsequent wave righted the vessel and at the same time the sailor was able to pull himself back aboard.
After an epic journey in a flooded yacht with no electronics, engine, heating or even a full compliment of sails, the experienced sailor managed to navigate safely to Stanley.
On reaching Stanley he decided not to continue his circumnavigation, opting instead to sell his boat and buy a plane ticket home. The yacht came into local ownership and the new owner set about drying out the vessel and making it seaworthy once more, but in the process came across the ants and alerted Biosecurity.
Some ants were collected for identification and a perimeter of insecticide applied around the yacht's exterior and pontoon to contain any ants in the unlikely event of them straying. The ants were identified by UK experts as the extremely invasive Argentine Ant (Linepithema humile), but in the meantime a New Zealand specialist identified themas Ochetellus spp.
The jury is out but either way, both species are invasive, and potentially harmful to native arthropods and ecosystems, and I doubt you would be reading this article had I named it 'The Ochetellus Invasion' would you? (Sorry if I lulled you here under false pretences but it is all in the name of biosecurity.)
The most effective way of eradicating ants is by use of slow acting poison baits. Spraying of insecticides only kills the exposed worker ants and may cause the queens to move the colony to a place of safety, making them more difficult to access, and in this case more likely to come ashore and risk establishing.
With no native ants on the Falklands we were not able to get commercially produced baits locally, and due to their hazardous nature precluding them from air freight, it was unrealistic to wait for ant bait to arrive on "the next boat." Therefore we put our lab manager Gordon Lennie's chemistry skills to the test and asked him to concoct a sweet but deadly brew. The bait worked as hoped with the worker ants finding the concoction irresistible.
After a good feed they headed back to their colony (somewhere in the paneling of the yacht's superstructure) and fed the queens, distributing the poison to the whole colony before the slow acting poison took effect.
At the time of writing we are confident that the colony has been eradicated but continue to monitor the yacht and pontoon with special sticky insect traps until we are 100% sure of our success.
Although so far this species has only been known to establish in Mediterranean type climates, they have established in homes across the UK and have adapted to survive periods of freezing, making their establishment in the Falkland Islands unlikely but not impossible.
This incursion serves as a reminder that we should not be complacent about biosecurity.
Earwigs showed that invasive species can and do establish here, and invasive species can cause our Islands and economy untold harm.