Brazil's economy contracts for fifteenth consecutive month
Tuesday, May 17th 2016 - 11:00 UTC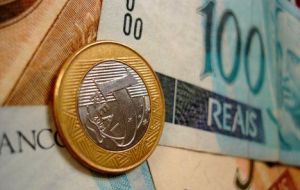 Brazil's economic activity contracted by 1.44% in the first quarter relative to October-December 2015 and 6.27% compared to the same three-month period of 2015, the Central Bank said Friday. The figures come from the Central Bank's Index of Economic Activity, or IBC-Br, an indicator used as a preview of the gross domestic product (GDP) number.
Economic activity in March, when a recovery had been expected to begin, declined 0.36% with respect to February and 6.64% compared to the same month of last year.
Brazil's economy shrank for the 15th consecutive month, according to that indicator. The results indicate that the Brazilian economy is still not in recovery mode after retreating 3.8% in 2015, its worst result in a quarter-century.
Private economists consulted in the Central Bank's latest weekly survey expect Brazil's GDP to shrink by a further 3.86% this year. If that forecast proves accurate, it would mark the first time Brazil's economy has declined in back-to-back calendar years since 1930.
Those economists, however, said they were confident the Senate's decision Thursday to impeach President Dilma Rousseff and remove her from office for up to 180 days for allegedly breaking budget laws would end the political uncertainty that they say has also dragged down the economy.
Business-friendly Vice President Michel Temer took over as acting president on Thursday and named Henrique Meirelles as his new finance minister.
Meirelles, who gained a reputation as an inflation hawk during his tenure as Central Bank governor from 2003 to 2010, a period of strong GDP growth, said Friday that "important adjustment measures" would be taken in a bid to curb a large budget deficit and encourage investment.