Argentina forecasted to increase wheat area by 25% for a 15/16 million tons crop
Wednesday, May 18th 2016 - 12:07 UTC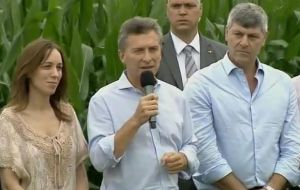 Argentine wheat exports more than doubled in the first quarter, government data showed, as farmers rushed to sell stockpiles ahead of an expected jump in plantings spurred by the open-market policies of new President Mauricio Macri. The surge in Argentine supply is hitting an oversaturated world market and putting downward pressure on wheat prices already near their lowest levels in six years.
Days after his December inauguration Macri ditched trade and currency controls as part of his plan to reset the economy. Growers wasted no time selling stocks that had piled up after years of interventionist policies under the previous government.
Argentina, the world's 10th biggest wheat exporter, shipped 3.13 million tons of the grain in the first three months of 2016 versus 1.53 million in the same 2015 period, according to figures from Argentina's SENASA food inspection agency. Industry groups see production ramping up over the course of the year.
"We are expecting an increase in planting area of close to 30% and it could be more," said David Hughes, head of the ArgenTrigo wheat industry chamber, on 2016 acreage. "This would imply production of 15 to 16 million tons, which would mean exports of around nine to 10 million."
The planned seeding expansion comes despite record-high global wheat stocks poised to rise even further as the United States, European Union, Russia and Ukraine forecast bumper harvests.
Macri eliminated a 23% tax that had been placed on wheat exports along with a years-old policy of restricting the amount of wheat allowed to leave the country.
Wheat planting in Argentina starts in June. The country consumes about six million tons of wheat domestically each year, including about one million tons milled and exported as flour.
The Argentine Rural Society, or SRA, which represents large-scale farms, expects a 27% increase in planting. "This would increase wheat area to 4.7 million hectares, which should bring production to more than 14 million tons," said SRA economist Ernesto Ambrosetti.
The U.S. Department of Agriculture expects Argentine wheat output in the 2016-17 season of 14.5 million tons and exports of 8.5 million.
A poll of more than 1,500 growers conducted by Argentine farm group CREA showed growers intended on average to increase wheat sowing by 33% versus the 2015-16 crop year.