Petrobras: Temer pledges judicial independence and respect for prosecutors nomination process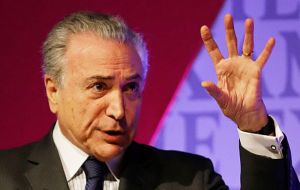 Brazil's interim president, Michel Temer said he would continue a tradition of nominating a prosecutor general who comes recommended by peers, allaying concerns about judicial independence. Justice Minister Alexandre de Moraes, sworn in last week as part of Temer's new government, told the Folha de S.Paulo newspaper in an interview that the prosecutor general of Brazil could be selected at will by the president.
That would reverse a tradition of Brazilian presidents nominating the candidate who received the most votes in an internal election conducted by federal prosecutors themselves.
Temer, however, told Globo TV through a press officer that he would maintain the tradition of nominating the candidate chosen by the corps of prosecutors, who have driven several high-profile graft investigations in recent years.
The justice ministry said in an emailed statement that Moraes was only noting that Brazil's constitution gives the government full autonomy to choose the prosecutor general.
The term of Brazil's current public prosecutor, Rodrigo Janot, does not end until September 2017. He has aggressively pursued a massive investigation into a kickback scheme at state-run oil company Petrobras.
The scandal has ensnared several top politicians from both the Workers Party of suspended President Dilma Rousseff, who is facing impeachment proceedings for breaking budgetary laws, as well as Temer's Brazilian Democratic Movement Party.
Janot recently requested that the Supreme Court allow him to investigate Rousseff for allegedly obstructing the Petrobras investigation. She denies any wrongdoing. The federal prosecutors' association said in a statement Temer has maintained an open dialogue and always spoken in favor of their independence.
Temer is not facing an investigation, but he has been cited by a state witness as taking part in illegal ethanol deals. He too denies any wrongdoing.
Temer, who served as Rousseff's vice president, last week stepped in as interim president when the Senate voted to try Rousseff for breaking budget laws, automatically suspending her from office for up to 180 days as the trial takes place.
Rousseff and others have warned that Temer and his ministers - several of whom are under investigation in the Petrobras case - would attempt to sabotage the investigation.
Temer has rejected such a notion and said he would not interfere in the inquiry. He also said in an interview with Globo on Sunday that he would dismiss any of his ministers charged in the Petrobras case.