South Africa catches Chinese vessel suspected of illegally fishing; eight other fled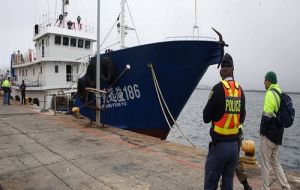 The South African Maritime Safety Authority (SAMSA) is investigating a Chinese fishing vessel seized by authorities after it and eight others were suspected of illegally fishing in South African waters. SAMSA officials boarded the vessel on Monday for inspection.
South Africa Department of Agriculture, Forestry and Fisheries (DAFF) Minister Senzeni Zokwana said an investigation into the vessel, being held at Cape Town harbour, is ongoing. The South African Police Services (SAPS), the South African Revenue Services (SARS) as well as the Department of Home Affairs are involved in the investigation.
DAFF spokesperson Bomikazi Molapo said there was no fish found on board the vessel, which had nine crew members.
The vessel, Lu Huang Yuan Yu 186, is one of nine that were spotted last week in South Africa's waters. According to the Department of Agriculture, Forestry and Fisheries, "DAFF picked up a fleet of foreign vessels through our Vessel Monitoring System Centre, which were steaming within the South African Territorial Waters around Port Edward heading south, towards the Eastern Cape. The vessels were continually monitored as they were heading towards Bird Island (outside Port Elizabeth) as a convoy at a speed of 10 Knots. One of our fisheries protections vessels [Ruth First] was activated to intercept and inspect the vessels."
According to the DAFF the Chinese fleet said it was on a delivery voyage to the Congo and the new boats had been purchased by an Angolan fishing company. The inspectors let the vessels proceed but kept monitoring them. However, when around the Southern Cape they split into different groups, prompting DAFF to dispatch a patrol vessel to intercept the fleet.
"The vessels were intercepted on Thursday 12 May 2016, at approximately 12H00 and were instructed to proceed to the nearest port," the DAFF said. However, after initial cooperation all the vessels sailed away after sunset and stopped communicating via radio. They also switched off their Automatic Identification System (AIS) trackers and navigation lights.
"That made it difficult for the Fisheries Protection vessels to detect which direction they were heading, but managed to chase and catch up with one of them and escorted it toward Cape Town and these arrived on Friday morning around 03h00 AM."
The vessel is now being charged with entering the South Africa's Exclusive Economic Zone (EEZ) without the required permit and disobeying lawful instructions by a fishery control inspector. Further charges will be determined once the vessel has been fully inspected by all law enforcement agencies including possible charges relating to the vessels that have escaped.